Kufuor Baptized Corruption In Ghana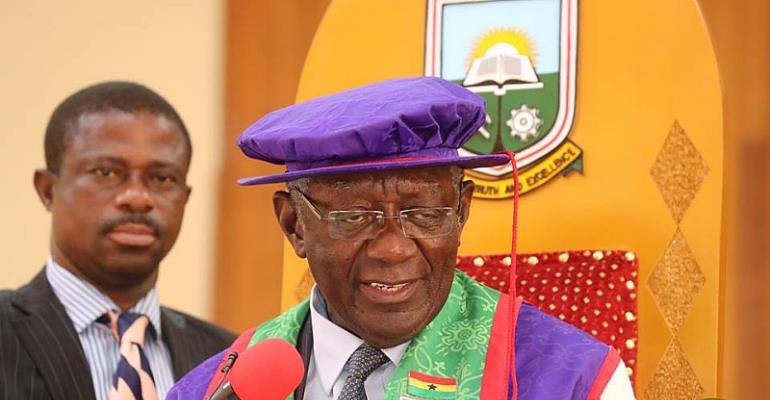 I wish that former President John Agyekum-Kufuor, who will be turning 80 years old in December, could respectably steer clear of Mr. Anas Aremeyaw Anas' filmic exposé called "Number 12" – I suppose this title is a pun on the fact of 11 players constituting the composition of a full soccer team – which focuses on rank corruption at the Accra headquarters of the Ghana Football Association (GFA). While, indeed, as President of Ghana, Uncle Kofi Diawuo – as Mr. Kufuor is also privately known – acquitted himself quite creditably with the development of our national economy, in the protracted and seemingly intractable war on official corruption in the country which, by the way, Chairman Jerry John Rawlings uncontestably midwifed, the former Provisional National Defense Council's Secretary for Local Government and Rural Development was decidedly AWOL.
To be certain, then-President Agyekum-Kufuor is indelibly on record as having told a British Broadcasting Corporation (BBC) reporter that it was inexcusably absurd for anybody to go about huffing and puffing over rank corruption in any society, because corruption, by its very nature, was organically integral to the fabric of human society, in general, and Ghanaian society, in particular: "Corruption is as old as Adam and Eve," Mr. Kufuor was shown on a globally publicized news footage cavalierly claiming. He would also have the National Chairman of the then-ruling New Patriotic Party (NPP), Mr. Haruna Esseku, summarily removed from his post, after Mr. Esseku was reported to have bitterly complained to a Ghanaian news reporter that the party was woefully strapped for cash because moneys that were supposed to be flowing into the coffers of the NPP at its Kokomlemle headquarters were being channeled to the Osu Castle, the seat of the Presidency at the time, at the express instructions of President Kufuor and his Chief-of-Staff, Mr. KwadwoMpiani.
Unlike President Addo Dankwa Akufo-Addo, in recent months, Messrs. Kufuor and Mpiani merely denied the accusation at the time without bothering to launch any investigation into the same to vindicate themselves. They were the law; and the law was not subject to self-scrutiny. Of course, the obvious implication here was that peremptorily removing Mr. Esseku from his elective position would force other top party functionaries in the know who wanted to keep their jobs and be in the favor and the administration of the former Member of Parliament for Atwima-Nwabiagya, in the Asante Region, to keep mum on this highly sensitive matter.
And now, not surprisingly, we have the man who shamelessly baptized naked and rank corruption in the country, after Chairman Rawlings gleefully midwifed the same, tell the media that he would like to see Ghanaians who watch the documentary, which is set to premier right now, express horror and shock at the same (See "Kufuor Wants Corrupt Officials in Anas Video Sanctioned" CitiNewsRoom.com / Modernghana.com 6/6/18). No such expectation could be at once more hypocritical and preposterous. The former President also says that he would like to see "corrupt" officials who are identified as such in the Anas Aremeyaw Anas documentary to be rigorously brought to book.
You see, Dear Reader, it is this facile presumption that anybody captured on magnetic by the Tiger-Eye PI private team of mercenary investigators is automatically criminally culpable that rankles me more than anything else. I have said this before and here, again, repeat the same: That until our leaders and politicians begin to seriously apply their commonsense faculties and come to a sobering realization that the ringing and perennial commercial success of the Tiger-Eye PI operatives is an apocalyptic indictment on the efficiency and credibility of our national security agencies, Ghana cannot be aptly described as a serious and functional postcolonial democracy.
*Visit my blog at: kwameokoampaahoofe.wordpress.com Ghanaffairs