Ghana Insurers Association Launches Complaint Management, Advise Bureau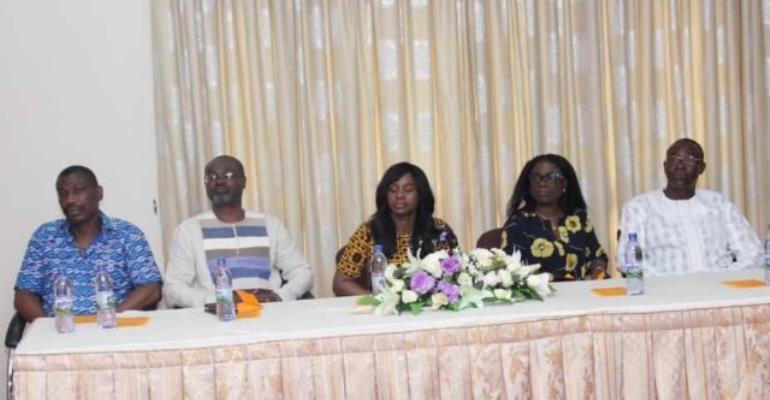 The Ghana Insurers Association (GIA) has launched a Complaint Management and Advice Bureau (CMAB) to handle complaints from policyholders and the general public.
The move is part of GIA's efforts to build a closer relationship and give more value to its customers.
This Bureau, according to the Association, is a Virtual Department set-up in line with GIA's Three Tier Complaints Management and Self-Regulatory Regimes.
Launching the Bureau to the media at the Auditorium of the National Insurance Commission (NIC), the President of GIA, Aretha Duku, said that the idea of the CMAB is to provide customers "some form of redress and advice.
"We are very mindful that the survival of any industry, amidst technological advancement, is customer centricity; and for the insurance industry, this is not a fallacy at all. Today, we have revamped and… (are) launching our CMAB to provide customers of our member companies some form of redress and advice," the GIA President said at the launch.
The need for the CMAB was necessitated by a desire to ameliorate the challenges customers face seeking redress when they feel they have not been served well; as well as by the practitioner's eagerness to see an aggrieved customer feel satisfied that his or her complaint was giving a good chance to a fair resolution.
In addition to that is the important role CMAB plays as an enhancer of industry self-regulation which ensures that the industry monitors its own adherence to legal, ethical, or safety standards in the first instance, as opposed to having a third party perform that function.
The values and rewards of Self-Regulation cannot be over-emphasised as it reduces both the burdens of complaints that go to the regulator, as well as avoids unfair judgment and punitive actions against members.
Aware of the growing need to educate its public on the vital role insurance plays in all facets of their lives, GIA, in coming out with the idea of the CMAB, aims to ensure that services to their customers bestow on them values that are devoid of complications or problems.
Thus, the justification for the setting up of the Bureau is derived from this conscious effort to see that practical measures follow the good intentions of Ghana's insurers. It is no surprise, therefore, that the Bureau eventually offers a two-way benefit to both the insurance service consumer and to the insurers.