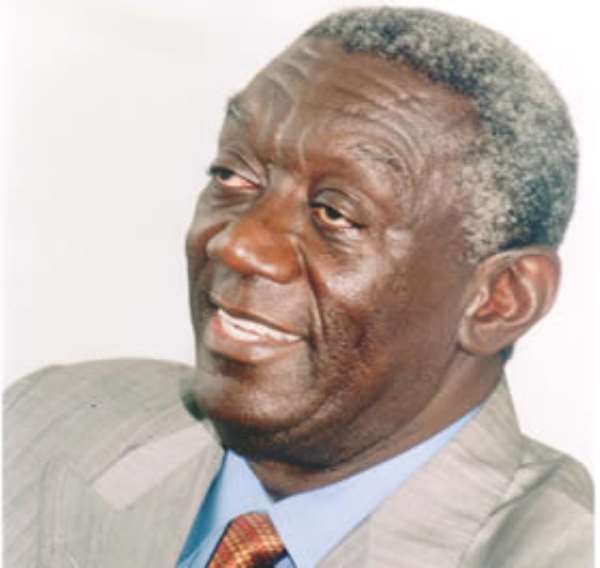 Accra, Sept. 8, GNA - President John Agyekum Kufuor, on Thursday, announced the decision by the Government to wean Ghana off its dependency on the International Monetary Fund (IMF) for financial support. He said the bold structural reforms within the last five years had brought the country's economy to a point where "the nation must assume full responsibility for its own policies". This, he said, was going to reflect in the incoming budget to be presented to Parliament. President Kufuor was speaking during a visit by Dr Abbas Mirakhor, Executive Director for Ghana at the IMF, at the Castle, Osu. The Government's decision does not mean, the country is severing its relationship with the Fund. It would continue to remain a member and a shareholder as well as maintain policy dialogue with it, only that the structure of the relationship, this time, is going to change. Ghana would be consulting the IMF as a full- blown and respected member and determine the rate at which it goes in the management of its economy. President Kufuor said, "as with many other member countries of the Fund, who are effectively managing their economies and recording sustained growth in a stable environment, we will continue our close collaboration with the Fund, and all the other international financial institutions."
He said the country would work to deepen its economic reforms based on sound policies and a commitment to transparency, accountability and good governance.
It would go to all lengths to ensure the achievement of the Millennium Development Goals with the assistance of the nation's development partners.
He said Ghana was grateful for all the support it had received from the IMF.
President Kufuor conferred a State Honour, "Companion of the Order of Volta" on Dr Mirakhor.
A Citation accompanying the Honour said his assistance has contributed in no small measure to the revamping of Ghana's economy, reducing poverty and improving the general well-being of Ghanaians. "Under your directorship and sound advice, the Government of Ghana has had funds approved for its programmes and needs by the IMF and is gradually gaining access to the international capital market." Dr Mirakhor lauded the Government for maintaining fiscal discipline and courageous structural reforms.
He said the deregulation of the petroleum sector, the two billion dollars lost through under-pricing of petroleum by the country since 1985, could have been saved and used to support other critical sectors of the economy, like education and health.
Dr Mirakhor said contrary to perceptions by some Ghanaians, poverty had gone down by between 7-8 per cent and that it was still, on the decline.
Speaking to newsmen later, Mr Joseph Henry Mensah, the Senior Minister, said, by the government's decision, the country should have the "political stamina and managerial capacity to stay on course." He said though unfavourable external circumstances were partly responsible for the problems of the economy, poor management in the past was also to blame.