Plastic Waste Fumes Can Cause Cancer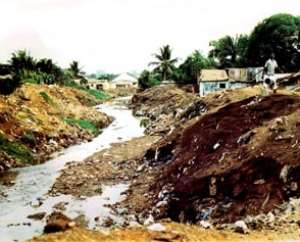 The burning of plastic waste,including empty"pure water" sachets,can cause cancer and breathing problems,a waste management engineer has warned.
The Technical Director of the City Waste Management Company Limited,Mr Jurgen Meinel,who gave the warning, said fumes from such burning produced dioxin, which was very poisonous.
He said some Ghanaians used plastics,instead of firewood to cook because it was readily available and cheaper. Mr Meinel gave the warning in reaction to the suggestion to burn plastic waste as a means of disposing of it in the country at a day's regional workshop in Accra on plastic waste management in Ghana, Togo and Niger.
The three countries have the common difficulty of managing plastic waste and had representatives of their various municipalities at the workshop.
Mr Meinel said long ago in Germany,some people burnt plastic as a form of waste management and the consequences then were similar to the Chernobyl disaster in Russia.
"I see people burning plastics in Ghana and still people wonder why Ghanaians don't live up to 60,"he said . The Deputy Minister of Environment and Science, Dr Gheysika Agambila said his favourite solution to the indiscriminate disposal of waste was caning.
He said since Ghanaians always referred to the progress made by the Asian Tigers,it would be equally good to adopt their penalty for the indiscriminate disposal of waste,which was caning.
Dr Agambila asked participants of the workshop to come up with practical means of solving the problem,since the penalty of caning could be disapproved by human rights activists.
Mr Atsu Titiati,the Country Programme Manager of Enterprise Works/VITA,Ghana,a non governmental organisation,said the organisation believed that the most promising solution to the plastic waste menace was the creation of a commercial environment where plastic waste would receive some monetary value.
That,he explained,would give private enterprises the incentive required to divert plastic film form from the streets and landfill sites back into plastic processing industries.
The workshop aims at developing enterprise- based solutions for the effective management of plastic waste in the three countries.