BGL's Mining activities do not promote good governance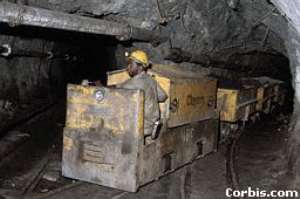 Tarkwa (W/R), Sept. 7, GNA - Mr Daniel Owusu Koranteng, Executive Director of Wassa Association of Communities Affected by Mining (WACAM) has said the mining activities of Bogoso Gold Limited (BGL) do not promote good neighbourliness.
He said BGL, as a corporate citizen, should help the development of its catchment areas by taking into consideration the welfare of the residents of mining communities, but this it has failed, by shirking its social responsibilities.
Consequently, he said, residents of these communities in its catchment area of operation have embarked on demonstrations against BGL. Mr Koranteng said these at the launch of " Save Prestea/Himan and Dumase from Bogoso Gold Limited" at Prestea.
The campaign was aimed at drawing the attention of government and financiers of BGL to realize the negative impact mining in Prestea town had brought to the residents.
Other mining communities in the Wassa West District, which attended the launching included Himan, Teberebe, Dumasi and Brakwaline. Mr Koranteng said WACAM was not against mining but mining in the heart of Prestea amounted to irresponsible mining, which WACAM opposes. He said effects of blasting alone should be enough for BGL to take a second look at its operation in the town, let alone the continuous machine noise and dust pollution.
In the face of all these sufferings, he said, the unfortunate thing was that when the residents of Prestea rose against the activities of BGL, some demonstrators were shot, adding, this amounted to suppressing of fundamental human rights of the residents.
He said foreign direct investment alone could not develop Ghana when the Fundamental human rights of the people were being trampled upon, therefore, investment and human rights should be seen as bedfellows for development.
Mr Koranteng told the residents of these mining communities not to politicize the negative impact of the mining, rather they should team up to fight for their fundamental human rights, advising them to guard against gifts from the mining companies that could be used as a bait to frustrate their front.
He said BGL deceived the whole country that it was putting Prestea underground mine under care and maintenance for two years and two years have elapsed without any thing to show for it.
Mrs Hannah Owusu Koranteng, director, research and training of WACAM, said the International Monetary Fund's (IMF) advised that privatizing mining companies to bring more benefits to Ghana has turned to bring hunger and deprivation.
Touching on the mining law, she said, it does not favour the owners of the land, adding, if 80 per cent of the money made out of mining go to the home country of the investor, then where lies the benefit to Ghana.
Prof Atta Britwum of the University of Cape Coast, who chaired the function, said gold investors are depriving landowners from tilling the land and the result of it was hunger and poverty, which could affect generations yet unborn.