Speaker In New York for Conference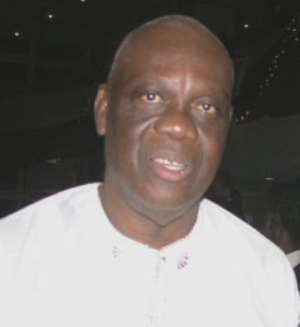 A global conference for Speakers of Parliament will take place in New York from September 7 to 9 this year.
The conference which will focus on consolidating and advancing democratic governance in the world will attract over 150 Speakers including Ghana's Speaker of Parliament, Mr Ebenezer Begyina Sekyi Hughes.
Mr Hughes has been slated to deliver a paper on democracy and good governance within the local and international context.
Already,Mr Hughes,who is in Fiji Islands to attend the 51st Conference of the Commonwealth Parliamentary Association,will join a five- member delegation to the New York Conference on September 6.
Speaking to the Graphic before his departure,Mr Hughes described the forthcoming conference as crucial and timely. He said the conference would go a long way to enhance parliaments and multi-lateral co-operation.
He said that the conference would also strengthen parliamentary democracy.According to Mr Hughes,he would seize the opportunity offered by the conference to present the concerns of Ghana's parliament to the United Nations.
He further pointed out that the conference would serve as a prelude to open discussions on effective measures to deepen the involvement of parliaments in international affairs.
He said consequently,the discussions were expected to enhance support for efforts to achieve the Millennium Development Goals.
Mr Hughes noted that the conference would present its declaration to the Summit of Heads of State and Government,that would take place at the same venue from September 14 to 19, 2005.
He also stated that the conference would aim at evolving a comprehensive view of the contribution of parliaments of the world in furthering peace,security,democracy,human rights and development.
Commenting on the conference in an IPU document, Mr Sergio Paez,President of the Inter Parliamentary Union (IPU) noted that"the presence of Speakers of national parliaments offers a reminder that democratic governments are subject to the scrutiny of their parliaments,and anything their leaders decide,will have to be debated in parliament if it is to be put in force."
He stressed that at a time when the United Nations was in the midst of a reform,there was the need for more stringent democratic oversight of the world of multilateral organisations.
The world conference of Speakers was organised by the IPU. The Secretary-General of the United Nations,Mr Kofi Annan, will address the conference.
Mr Paez and the President of the UN General Assembly, Mr Jean Ping, will open the conference.The first Speakers conference took place in 2000 at the same venue.
Speakers of parliaments of other African countries expected at the conference are Nigeria,South Africa, Kenya,Gabon,Zambia,Namibia and Lesotho.Others are Morocco, Ethiopia,Angola,Botswana,Burkina Faso,Rwanda and Cameroun.