A Warning To The US Government: Stop Testing Ebola Biological Weapon In Congo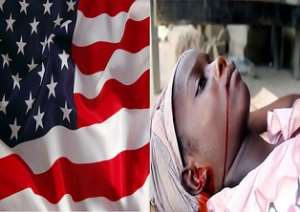 A victim of Ebola and the American flag because the US government is responsible
Africa might be slow in development but that doesn't mean that Africans are stupid. The US government, the World Health Organization and the Centers of Diseases Control must stop immediately the testing of Ebola biological weapon in Congo and stop deceiving the world and Africans that bats and monkeys are responsible.
How long are Africans living with monkeys and bats for the World Health Organization and Centers for Disease Control to tell Africans that bats and monkeys are responsible for spreading of Ebola? This doesn't make sense.
As it stands, there is no cure for Ebola. But a vaccine owned by American pharmaceutical company Merck has been touted as the best chance to contain and control the spread of the virus.
What is the guarantee that the vaccine is good if it's still unlicensed? In other words, the World Health Organization is using once again Africans as guinea pigs to test their devilish unlicensed vaccine.
Like many Africans, it seems some of the Congolese have realized that something fishy is taking place in their country and, therefore, the need to do something to save their lives is necessary.
Two Ebola patients, therefore under treatment escaped from the Ebola treatment center.
However, one of the patients died at home. His body was returned to the hospital for safe burial, while the second came back to the treatment center but died later that night.
How corrupt are African leaders watching such murderous activities going on in an African country and yet no one cares to investigate to find out the truth?
You are only depending on the false information provided by World Health Organization and the Centers for Disease Control but if you claim to study hard to be politicians then that knowledge is enough to know that the US government is testing biological warfare products in Africa.
African leaders will live to regret when the whole African economy and the tourism industry collapse. That's exactly what the US government wants, to cripple Africa's infrastructure for the leaders to continue depending on them, in order to get 'Guinea pigs' to test their biological weapons.
Now it seems Ebola is doing that task. As a deadly virus, since Ebola outbreak even though it happened in a few African countries, it has affected the entire African continent because the European and American media have put fear into travellers not to visit Africa because they can likely get Ebola. Is that fair?
Where are the African leaders? Where are the African journalists? What is going on in Africa that everyone is so scared to speak about?
Enough is enough America. If African leaders and journalists are scared, the writers of the health blog "Secrets Of Aids And Ebola Facts Journal, "aren't afraid because among us is a qualified scientist and a medical doctor who are aware of your clandestine global depopulation project.
When the tough Africans who are not scared to die can't take it any longer, America, you'll be sorry. We have already told Trump he can't visit Africa until he leaves and the next after him will take his mantle.
They shouldn't try because even illiterates at the remotest part of Africa are now aware that the US government is responsible for Aids and Ebola. America we are warning you, not telling you, stop the testing of Ebola in Congo or any African country.