Ghana has one foot in Germany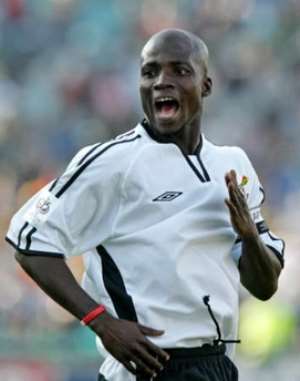 Although Ghana are not yet mathematically guaranteed a ticket for Germany 2006, it would take an improbable chain of events to deny them their place. With one round of matches to play in African qualifying, the four-times continental champions need just a single point to put the official seal on their first-ever FIFA World Cup™ finals qualification.
It is around 6.30 on the evening of Sunday 4 September and little by little the streets of Accra and Kumasi are filling up with people. Within minutes, the two largest cities in Ghana reverberate to the sounds of a huge throng of jubilant fans, as scenes of wild celebration spread across the country on a scale usually reserved for national holidays. Moments earlier, the Black Stars had sealed another victory in a FIFA World Cup qualifier - taking themselves and their ecstatic supporters a giant step closer to Germany next summer.
This time, it was Uganda on the receiving end of a revitalised team determined to recapture former glories. Indeed, Ghana may well be considered one of the strongest sides in Africa, but it has been far too long since they left any kind of lasting impression.
Twenty-three years, to be precise. It was all the way back in 1982 that the Ghanaians won the fourth and last of their CAF African Cup of Nations titles, following successes in 1963, 1965 and 1978, and only Egypt and Cameroon can boast the same number of continental trophies. The nation's heroes at the time included George Al Hassan, Albert Asase, Opoku Afriyie and Abedi Pele, but today's generation have their sights set firmly on the world stage.
A month from now, John Mensah, Stephen Appiah and Asamoah Gyan have every chance of securing their country's very first appearance at a FIFA World Cup finals. Taking their lead from Michael Essien, the new darling of African football, the Black Stars are looking to create history.
And completing the task ought to be simple enough. Ghana are currently three points clear of Congo DR and South Africa at the top of Group 2 and, to be joined at the summit, they would need to lose in Cape Verde on 8 October while both their rivals won. Hardly impossible perhaps, but a closer look at the FIFA rules and regulations shows them to be all but safe. The first tie-breaker for teams level on points is the head-to-head record, and that immediately rules out Bafana Bafana following their two defeats (3-0 in Kumasi, 2-0 in Johannesburg). Only Congo DR can hope to catch Ghana, but they will need to improve their goal difference significantly (+4 at present, compared to +9 for Ghana), since it is impossible to separate them based on their head-to-head results (0-0 and 1-1).
All in all, Ghana should be able to sleep fairly easily between now and their final match. The country's president certainly has no doubts and has already congratulated the players, Serbian coach Radomir Dujkovic and the fans. His confidence is shared by an entire nation, and football lovers around the planet can start looking forward to seeing a fresh face on the playing fields of Germany next year.