Sixty Percent Child Deaths Caused By Malnutrition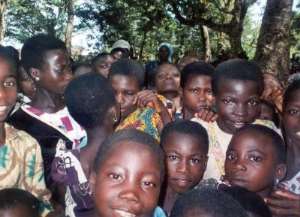 Available statistics indicate that malnutrition is the underlying cause of about 60% of all child deaths. About a third of children aged less than five years in Ghana are underweight and a quarter of them are stunted or too short for their ages. These conditions are the results of chronic under feeding, and or inappropriate childcare practices.
Studies have shown that there is decreased Intelligence Quotient (IQ) and therefore stunted children do not perform well at school. There is also reduced physical endurance, work and reduced productivity output as adults, thus making them less useful to society and more susceptible to poverty. The children of such adults are likely to follow the same path thus leading to intergenerational or endemic poverty.
Making a presentation at a one day National Dissemination workshop, the head of Nutrition Unit of the Ghana Health Service (GHS), Mr. J. G. A. Armah noted that good nutrition is very important for the good health of every individual, stressing that it is one of the most important requirements for the proper growth of children.
He however regretted that despite this recognition, many countries including Ghana are bedeviled with unacceptably high levels of malnutrition among under-five children.
Mr. Armah warned that this period of the child's growth is critical since any harm caused cannot be reversed.
He noted that the importance of nutrition in national development cannot be overemphasized as nutrition has direct implications for achieving four of the eight Millennium Development Goals (MDGs).
The four (MDGs he mentioned are eradicating extreme poverty and hunger, achieving universal primary education, reducing child mortality and improving Maternal Health.
According to him, serious action needs to be taken to reduce malnutrition before these goals could be achieved.
He said many households with malnourished children have adequate food and the resources to feed their children well, but lack of knowledge on best child feeding practices has been an impeding factor.
Mr. Armah further stated that the Community Based Nutrition and Food Security Project (CBNFSP) based at the Nutrition units have been designed to address these challenges.
"It is one of the components of the Community Based Poverty Reduction Project (CPRP) with funding support from the Learning and Innovation Loan (LIL) facility of the World Bank, and under the coordination of the National Development Planning Commission (NDPC)" he noted.
Mr. Armah said the main objective of the (CBNFSP) is to test strategies and implementation processes aimed at empowering communities to identify the causes of malnutrition and address the issues concerned to reduce malnutrition. "The CBNFSP is being piloted in four districts namely; KEEA, Sefwi-Wiawso, Kadjebi and Bongo districts" he concluded.