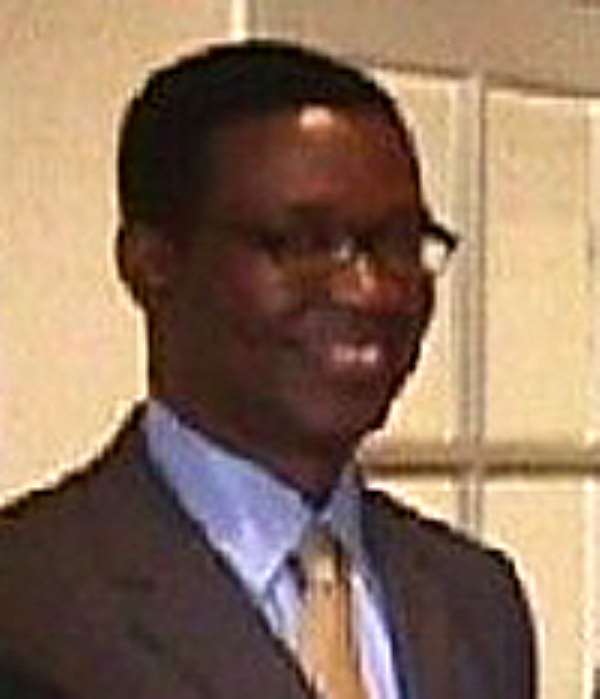 ... Owusu Afriyie is president of dodgy Millennium Africa Fund, accused of defaulting Exim Bank with implications for Ghana Accra, Sept. 6 (Chronicle) -- WHISTLEBLOWER Mr. Paul Nimako has repeated his charge against Mr. Kwame Owusu Afriyie(pictured) and demanded investigation into his activities and possible prosecution.
Nimako, who used to be the president of a US-based company, Rainbow Foods International Corporation, undaunted by his shocking incarceration, reminiscent of the NDC era's Republic v Tommy Thompson and 3 others case, insists on his allegations against Owusu Afriyie, who is the chairman of Allied Savings and Loans in Kumasi.
Mr. Owusu Afriyie, who is the Managing Director of Goldlink Travel and Tours also, is at the receiving end of the whistleblower's spirited charges of using national resources to organize 'Expos' in both the United States and the United Kingdom, both of which have not posted any tangible returns to the country. One of these resources is a service passport, which Afriyie admits he has procured.
Incidentally, Mr. Owusu Afriyie is involved in another enterprise, Millennium Africa Fund, which has been scoffed at by Ghanaians in the US as a dodgy enterprise. The Ghana address of the MAF is listed as P.O. Box KNUST 663, Kumasi.
Speaking to this reporter inside the James Fort Prison, Nimako said he would follow the case to its logical conclusion, no matter the cost.
In follow-up telephone cross verifications, siblings of Nimako in US confirmed that they were aware that Owusu Afriyie was indebted to Nimako and wondered what kind of justice was operating in Ghana where a victim of fraud rather ended up in jail while the real offender walked. This, they contended was effectively gagging Nimako.
At the Dansoman police station, policemen who were interviewed by this reporter could not show any evidence of threats, which formed the basis of the prosecution and subsequent confinement by Mrs. Aikins of the Magistrate Court at Mantse Agbonaa.
The police had told this reporter that they were investigating a case of threat against Nimako, made by Owusu Afriyie and that Nimako had duly reported to the police station and leveled accusations against Afriyie.
Mr. Afriyie denied the accusation that his deliberate default in paying the sum of over $1 million facility from Exim Bank, had jeopardized the American credit bank's relations with Ghana.
"Nimako knows that I have money and so he wants to siphon some money out of me, that is why he is doing all this," was his reaction to the accusation.
In earlier petitions to the President, Nimako gave a carefully worded chronology of events leading to a long list of debts incurred by Owusu Afriyie and his 'business cronies' including sums in excess of $1.5 million to American Insurance giant CAN Insurance Company (USA) and a US credit guarantee bank, Exim-import bank.
Documents made available to The Chronicle show that the Afriyie-owned company, Goldlink Travel and Tours Ltd of Accra, borrowed $1,155,044 from the bank through an application made through All First Banks in Baltimore and guaranteed by the same Kwame Owusu Afriyie of Kumasi, Ghana. The loan was used for the purchase of buses. Exim Bank officials in Washington would not comment on the status of the loan when reached by phone nor confirm whether the loan that was granted some five years ago had been retired or not.
Nimako explained in his deposition that he had an agency agreement with Afriyie in which he brought twenty Ghanaian businesses for trade financing opportunity, using his connection in the US, built over the years.
'They were also to submit to be qualified for a 100 percent international trade financing and revolving line of credit ranging from $50,000 to $300,000.00 each.' The qualified exporters would use the facility to import any lawful goods of their choice with all expenses paid by Rainbow Foods (Nimako's company).
Mr. Nimako claimed that after shipping goods ordered by the agents who were sent to Ghana, he requested shipping documents. 'On payment due date, Mr. Kwame Owusu Afriyie and Daniel Kofi Duku were contacted. They never sent the payment after several demand notices.' Mr. Nimako said at the time he came to Ghana, investigations established that the goods were never shipped, hence never in Ghana at any bonded warehouse as was 'fraudulently represented by my agents, the suppliers and the importers.'
'They charged my company a fee of $50,000 for agency, with $25,000 up-front (which I paid) and the balance to be paid after full payment had been received from their clients," Nimako charged.
On his part, Nimako noted that he had triggered a first shipment valued at about $3 million to the various importers, including a shipload of sugar, with all documents routed through his agents, Owusu Afriyie and Duku.
Afriyie, who was initially responding to the allegations, later paused and called for the help of Mr. Paul Adom Otchere, a media practitioner of Citi FM morning show and Metro TV's Good Evening Ghana fame, who admitted that he was the Public Relations officer of Owusu Afriyie.
Mr. Adom-Otchere helped him deny all the allegations, claiming they were being made by a frustrated and destitute person, who had sworn heaven and earth to puncture the credibility of the Expo and Owusu Afriyie.
In the presence of Mr. Otchere, he noted that Nimako was only peeved after several attempts to extort $200,000 from him had backfired.
According to him, he had lodged a formal complaint with the police CID for Nimako's arrest since he had called and threatened him.
Meanwhile, though Owusu Afriyie has admitted being invited by Dr. Kwame Amoako Tuffuor to the president's office with regard to the same allegations, following a copy of the petition sent to the Presidents' office, when reached for confirmation, he did not confirm or deny whether the petition had been received by the president though Nimako insisted that he did send the petition across.