QNET Donates To The National Chief Imam's Orphanage And Educational Trust Fund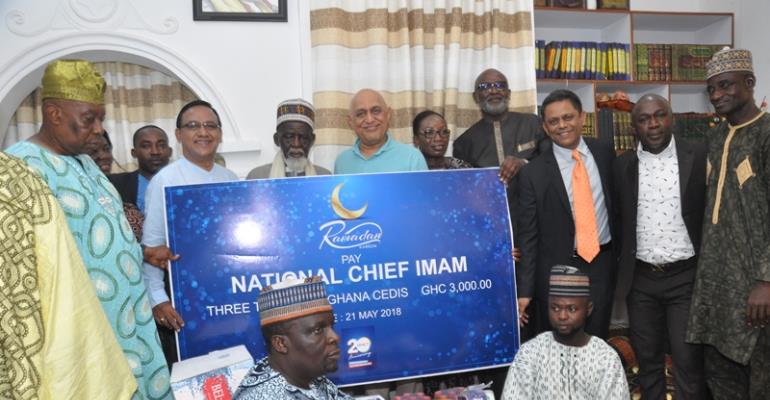 21st May, 2018 Accra – Qnet, a world leading direct-selling company joined hands with its Independent Representatives (IRs) to donate food items, toiletries, drinks and cash to the National Chief Imam in Accra as part of its Corporate Social Responsibility (CSR) activities in the Ramadan season. The event was attended by high-ranking Qnet officials including Mr. David Sharma, QNET Advisor, Mr. Biram Fall, Qnet Manager for Sub-Saharan Africa, Mr. Rajesh Rao, Qnet Senior Public Relations Manager, Maxime Peti, QNET PR Manager for Africa, QNET Independent Representatives and others.
Commenting on the event this year, Biram Fall, QNET Manager for Sub-Saharan Africa said: "Ramadan charity campaign has been one of our key campaigns very year. It is indeed a very meaningful, heart-warming and fulfilling initiative for QNET. Such campaigns promote empowerment of the community and are also very inspiring for our staff and our IRs to be personally involved in enriching the lives of others."
The National Chief Imam, His Eminence Sheikh Dr. Nuhu Sharubutu was filled with gratitude for the act. He commended Qnet and encouraged other corporate organisations to emulate the exemplary and kind act.
The National Chief Imam is the highest Islamic authority in Ghana. The Chief Imam directly feeds many less-privileged Muslims who throng his residence during the Ramadan period. In addition, the Office of the Chief Imam coordinates an orphanage, an educational trust fund and a peace and security organisation.
Qnet donated bags of rice, gallons of cooking oil, boxes of drinking water, crates of drinks and toiletries. In addition, Qnet donated a cash sum of GHC3,000 to support the Office of the Chief Imam's orphanage and educational trust fund projects.
Mr. David Sharma, QNET Advisor thanked the National Chief Imam for welcoming QNET and accepting the donation heartily and said it was beginning of a cordial and fruitful relationship that will last.
This annual campaign aims to enrich the lives of many and is aligned with the company's philosophy – Raise Yourself to Help Mankind (RYTHM). The basic teachings of RYTHM have always been focusing on going above and beyond, to care for the less fortunate by providing better living conditions for them, especially children who are the symbol of our future.
This year's Ramadan campaign in Africa will see collaboration among QNET employees, agents and Independent Representatives pooling in their efforts to organise a month-long series of charity activities in countries such as Ivory Coast, Togo, Cameroon, Guinea, Burkina Faso, Tanzania, Niger, Uganda, Chad, Mali, Ghana and Senegal.