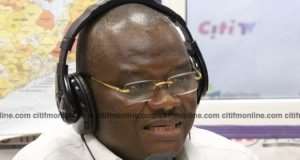 A flagbearer aspirant of the National Democratic Congress, Sylvester Mensah has stated that there is relative peace in the NDC adding that he is sufficiently pleased with the preparations of the party ahead of its constituency and regional conferences, as well as its national congress.
Speaking on Adom FM, the former Chief Executive of the National Health Insurance Authority (NHIA) also noted the increased tensions in the party ahead of the polls, saying it would be unrealistic to have all contestants and opponents "smiling and holding hands" as they competed for executive positions and presidential primaries.
"Our different realities and varied rationalities inform our expectations, ambitions and preferences which generate contradictions and tensions at all levels of the party across the country."
He urged the party not to gag aspirants and hopefuls in the name of peace and unity but allow free expression and healthy competition to complete this phase of the total reorganization of the entire party.
He affirmed his decision to contest the vacant position of flagbearer of the party and called for all delegates to support his bid.
"The NDC is bigger than individual members. Let us not see the flagbearer position as the preserve of any individual. Anyone who aspires to lead the party must be ready to lobby, engage, campaign and present good reasons why he or she must be given the mandate of the party. I see a job to be done, not a position to be filled, and I am ready and capable to deliver