Food And Drug Authority Declare 'War' On Expired Products And Unauthorized Drugs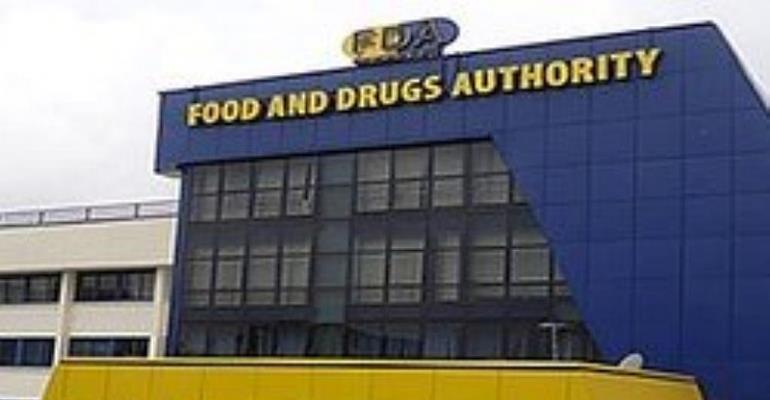 The Central Regional Directorate of Food and Drug Authority (FDA) say it is organizing series of public education for food Vendors in Agona Swedru and its environment with a warning to expired goods and unauthorized drugs sellers to desist from the act or faces the laws of the land, the Regional Director, Mr. John Odai Tettey has announced.
The Vendors drawn from various food preparation spots were briefed on safe food preparation and personal hygiene at work places.
Other sectors like sachet water producers, drinking bar operators among others would also be given similar education.
At a day seminar organized for the food Vendors at Agona Swedru last Tuesday, Mr. John Odai Tettey stressed the need for the general public to look up for the kind of food products they buy from the open market making sure they bear authorized labels and were hygienic enough for consumption.
He noted that his outfit has observed with concern unhygienic and expired products been sold for general public.
Mr. Odai Tettey noted that the seminar which would been carried out in the whole of the Central Region was to create awareness on safe foods and products.
" The main objective for this seminar is to limit microbial contamination, avoid unhealthy practices and habits at the point of food preparation and sale.
As food vendors, try to avoid unhealthy commercial grinding or milling places. You should also make sure to use appropriate cooking utensils among others to serve your customers "
Later in an interview with newsmen, Mr. John Odai Tettey hinted that the Authority would soon cramp down on people selling expired products and unauthorized drugs to innocent buyers.
He warned herbal drug sellers saying they would soon face full rigorous of the law if they fail to register their products with recognized authorities.
" This exercise is for educational purposes, we are hoping that by the end of this month, goods and products would be legally registered to avoid arrest and subsequent persecution.
For now, we are gradually creating the awareness before we strike"