Nona Graceland Commissions Recreational Centre For Children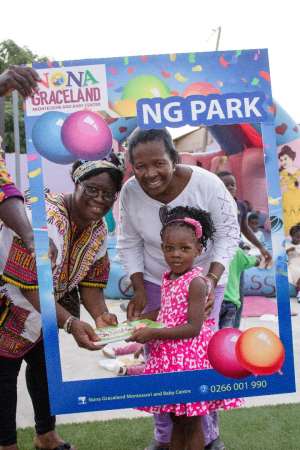 The management of Nona Graceland through research identified a gap in family and child recreation and amusement services in the country.
To address the problem, the Nona Graceland School has commissioned its first Recreational Park for the school and the general public.
The playground would be replicated in the regions.
The Director of the NG Park, Mr. Titus Tetteh Nanor, told Space 87.7FM in Sunyani that "our intervention hails from the objective that recreation offers its patrons a long lasting positive effect.
Mr. Nanor added that "recreational centres promote healthy living, effective learning for the child and helps them learn how to socialize positively through playing".
According to the director of NG Park, their outfit has decided to focus part of their efforts on the developing family amusement parks across Ghana with the NG Park as their first unveil.
"We will work with local and international partners to deliver these parks across the country", he added.
The NG Park is located on the 15 Komieteh Street, Okpoi Gonno, within the Ledzokuku Krowor Municipal Assembly, Accra.
The location of the NG Park opens it up for direct patrons who live in and around Spintex, Greda Estates, Sakumono, Teshie, Nungua, Labadi, Tema and its environs. Other patrons beyond these areas can easily make their way to the NG Park and enjoy the experience it gives.
The C.E.O. of Nona Graceland School, Mrs. Comfort Tetteh Nanor, said benefits for children from the NG Park upon its full completion are enormous because the facility has been designed so to make a one-stop place to meet the child's play and learn needs.
Activities at the facility include the Bible Club which will help instruct the child based on Godly principles,
Play Care is scheduled for weekdays (including drop-ins and after school care), weekends and holidays, educational playing and learning items, access to the NG Book and digital libraries, ICT Centre, children's cafeteria beauty salon, as well as the game room where the children will enjoy educational and non-violent games.
As part of its effort to contribute to driving financial inclusion in Ghana, Nona Graceland has been collaborating with Fidelity Bank to educate the Parents/Guardians about financial investment options for the child.