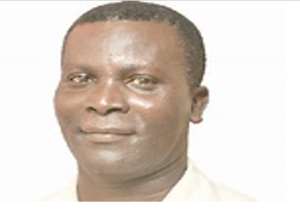 Hajj Mohammed Kpakpo Addo is the General Secretary of the Federation of Muslim Councils of Ghana [FMC]. He went through the mill from the grassroots of Muslim Organizations to reach the top of the hierarchy of Muslims in Ghana. He is a social worker and human right activist and a leading staff of Commission on Human Rights and Administrative Justice [CHRAJ].
In line with his mandate he links up with almost all the component bodies of Muslims in Ghana and beyond. He has achieved a lot for Muslims and FMC working voluntarily spending cash out of his own pocket. The latest positive adventure of Hajj Kpakpo Addo is his swift runs over the controversy over the threat to close down a mosque at Ashiyie near Adenta in Accra, which is now in court. He consulted the National Coordinator of the FMC Hajj Abdallah Showmie Williams and some leading members of the council before he led a two-man committee to go on a fact finding committee to the mosque. Together with his Deputy Hajj Bashiru Sackey the delegation also visited the Cooperative Center for Education and Relief Services [CCERS] which is within the mosque.
The team joined a small jama'ah [ congregation] to observe the Asr the late noon prayer after a 'muadhin' had called the azan in low tone without the use of microphone. After interacting with members of the congregation over the issues at hand the delegation concluded as follows.
The general secretary together with the Coordinator would review the issues and commence an independent inquiry into the issues involved with the mosque at Ashiyie.
We can only be thankful to Hajj Kpakpo Addo and his delegation for the steps they however taken so far. It is our prayer the good lord would protect and guide the to find solution to the controversy to bring peace and stability within Ashiyie and the other communities in the country.