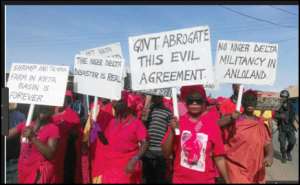 "...Hundreds of residents from communities in the Keta Municipality, clad in red, Thursday hit the streets to register their opposition to crude oil exploration and salt mining in the Keta Basin of the Volta Region. The demonstrators, including the aged, some supported by walking aids, bearing placards, sang and danced to war songs before finally converging at the "Hogbetsotso" park. Some of the placards read: 'Government, abrogate this evil agreement', 'Keta Basin is a Ramsar site, so keep off...'..."Anlo chiefs, wake up...." .. . . Mr. Roland Tudzi, Chairman, Keta Municipal Vegetable Farmers and Marketers Association (KMVFTA), the protest organizers,....described the projects as "a stab at the back of the people" by the previous National Democratic Congress regime...," (Dominic Adoboli, GNA Anloga, May 11).
Normally, based alone on the principle of Ghana-centeredness, we would not provide this type of personal information. However, we must today because of the nature of the problem: We were not born in the Volta Region.
But, for those tribalists on this and other Ghana-interest forums who are average or better readers and critical thinkers, that is not to say we are not from the Volta Region, or, that we have no siblings therefrom.
We hope, and we are working to advance the objective, that the plan to explore for oil anywhere in the rivers of the Volta, Lakes, Wetlands, and Deltas, through the government approved corporate mechanism of the so-called Swiss African Oil Company (SWAOCO), is defeated and cancelled.
There all said it, from ACEP, to GNA, to Emmanuel Armah-Kofi Buah's Petroleum Ministry, that so-called Swiss African Oil Company (SWAOCO) is a "a subsidiary of Swiss African Petroleum AG". But, it turns out "Swiss African Petroleum AG" is probably more like a Donald Trump/Michael Cohen LLC. Swiss African Petroleum AG refers to Swiss African Oil Company, then to itself, without as much as 10 employees. Neither companies, we believe, has any track record in oil production no matter where we look, from Switzerland, to Ghana, to Australia, to Florida/USA.
In nearly 10 years of production of oil in Ghana, Ghana has received barely 20% of all the income generated, even as Ghanaian off-shore waters and lands have borne all the risks of environmental degradation and harm.
History shows that the oil will benefit the communities little, if ever, and there is no point exploring for oil in an ecologically sensitive area such as we have in the Keta Delta, and area recognized by international Convention on Wetlands as one of several RAMSAR sites in Ghana, an ecologically fragile region for the conservation, wise, and sustainable use of resources, and avoidance of potential and actual harm from activities the local communities themselves do not create, manage, or control.
To the point, the so-called Swiss African Oil Company (SWAOCO) itself notes in a sales brochure, "current as at 2 February 2015", still now on their website as of this writing, that the Keta Delta and part of the area encompasses "a multiple-use RAMSAR" region:
".... Basically a fishing and agrarian culture, the delta is generally a flat flood plain with bush, cultivated, wetlands, and shallow to deep marine areas – part of which is within a multiple-use RAMSAR designated region.".
(https://www.swiss-african-petroleum.com/swaoco.html)
We will hazard that it is rather easy for most Ghanaians to understand that the decision by the Mahama NDC administration to award the Keta Delta Block to SWACCOO in 2016 for the purpose of producing oil in that ecologically sensitive region was based entirely on monetary perspective, and what will accrue the owners and the power brokers who approved the scheme, without proper consultation of the communities in the area and Ghanaians as a whole, in the first place.
Under-pining the concept of "multiple-use RAMSAR" are values that sustain humans, their culture, their history, terrain ecology, and bio-diversity of plants and creatures supported at the site. That is the purpose of the waters, lakes, and the delta, to include agrarian culture. Producing oil in those areas under poorly-functioning administrative regimes that have poor track record of enforcing rules and regulations is not sustainable, nor wise.
DITTO: Oil exploration and production are not sustainable activities within a protected RAMSAR region. If anything, it calls for strict conservation, limitation, and exclusion of industrial oil production.
Further, under modern land use planning principles and tenets properly managed by conscientious officials attuned to protection of the environment in which their citizens live, it actually calls for a recognition of desirability to establish buffer zones to protect the areas from incompatible uses and harmful developments that are averse to community-based sustainable resource management.
As we conclude today, the proposed activities by the so-called Swiss African Oil Company (SWAOCO), (i.e., to explore and produce oil), can never be compatible with existing and future human uses, values, culture, and ecological constraints within the Keta Delta and the duly recognized RAMSAR zone within. That is, unless the Government of Ghana is prepared to write-off the entire area and region as unworthy of the planned development contained in its own citizen-funded land use and transportation planning document(s) sitting on dusty shelves in the old Mahama offices.
MESSAGE: Keep on Keta residents & Anlo Youth protesting oil production in the Keta Delta!
Keep on! Stay Strong! Protect the waters and the land from greedy and absent-minded government officials, corporatists, liars, and people pretending that by throwing around "SWISS", that the people will be fooled into thinking they can expect "SWISS" truth and balanced development for the region.
There is absolutely nothing "Swiss" about "Swiss African Oil".
It is all a marketing gimmick for a few people, some of them from Eastern Europe and America, to make money from the common resources owned by all the people as citizens of Ghana.
Keep on: There is no point in exploring for oil in an ecologically-sensitive area such as we have, in the wetlands, waters, and rivers of the Volta, the Keta Delta, and Keta RAMSAR site.
Nip all that in the bud! Stop oil exploration and production in the Ghanaian inland waters, lakes, and rivers.
Wake up, Ghana! SOURCES/NOTES: 1. Ghana News Agency, Anlo youth demonstrate against oil exploration in Keta, (http://www.ghananewsagency.org/social/anlo-youth-demonstrate-against-oil-exploration-in-keta-132507).
2. Angry residents protest oil exploration in Keta basin, (https://yen.com.gh/109948-angry-residents-protest-oil-exploration-keta-basin.html#109948).
3. SWISS African Oil Company, (https://www.swiss-african-petroleum.com/swaoco.html).
4. Anlo youth demonstrate against oil exploration in Keta, (http://allghananews.com/anlo-youth-demonstrate-against-oil-exploration-in-keta/).
VISIT WWW.GHANAHERO.COM/VISIONS, FOR MORE INFORMATION:
SUBJ: MESSAGE: Keep on Keta Residents & Anlo Youth Protesting Oil Production in Keta Delta!
Support Fair-Trade Oil Share Ghana (FTOS-Gh) Campaign/Petition:
https://www.change.org/p/ghana-fair-trade-oil-share-psa-campaign-ftos-gh-psa/
Powered by/Brought to You Courtesy: FairTradeOilShare.com; FTOS-GH.com©12 May, 2018.
(Powered by: www.GhanaHero.Com).