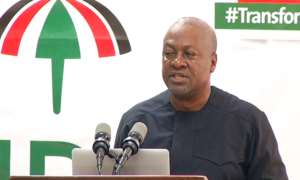 There is no denying that the evil nature of NDC vagabonds makes them the treacherous liars that they have always been. Truth be told, Ghana has never had such a lowly most obnoxious opposition as vexatious as this current NDC that speaks no good, sees no good, and hears no good. They are as blind as bats, as noxious as crocodile bile, and as terrible betrayers as Judas. Basically, they are the turncoats of humanity whose colours are continually changing like the bush chameleon or the various facades of Asiedu Nketia's evil mannerisms.
NDC cannot keep their micro-penile ejaculations hidden from embarrassment. In trying their best to ridicule or slander the NPP government, they shoot themselves in the foot over and over again as if it were a mark of success in the manner of idiocy and malignance!
Gyankroma Akufo-Addo is the daughter of President Nana Addo Dankwa Akufo-Addo. By default, it means that this woman does not lack. In fact, the President took such exemplary care of his children that they have become women of substance and grace. Gyankroma does not need to buy mansions or want to even show off what she has. After all, she is an independent woman, and a playwright with a degree in that field of Art. She has written quite a number of successful movie and drama scripts that I assume must have fetched her quite a bit. So NDC fools must "come again"! Besides, if she wants to buy a property, what can stop her other than fate? Is she not independent and has an equal right to live life as any other human being? Why is it okay for them to have property and not Gyankroma, in particular, though it is categorically false that she ever bought a mansion? Those dirty scoundrels of the NDC making the unfounded allegations against her must realise that by trying to scandalise Gyankroma, they are inadvertently stripping their own mothers naked.
They have soon forgotten the allegations of massive embezzlement of moneys at SSNIT under Joshua Alabi to the tune of over 140 million US Dollars. Yes, the uncouth Joshua Alabi, who claims that he is the angel in NDC. The man who called some online portals to threaten law suits if they did not pull down articles written against him. They have also soon forgotten the scandalous Spio Gabrah with his holier-than-thou attitude, which in effect is an embellishment of a dirty criterion that happens to be a main requirement to be inducted into the NDC. They have also soon forgotten Alban Gbagbin, who can boast of very little achievement, if any at all, in his constituency. If he could not control his own secretary that John Mahama allegedly bonked in the office how would you expect him to run an effective campaign? If he cannot be of any help to his electorate, how do you suppose he will rule Ghana if in the impossible event he got the nod as president? Finally, they have soon forgotten John Mahama, who went from rags to riches with his ascent to the office of MP before serendipity put him on the pedestal of the Presidency where he was alleged to have squandered the nation's wealth basaaaaaaaa?
Then the zombies in an NDC group petitioned the Council of State against the President's one week vacation. Ah but how? When John Mahama went on his infamous trip to America and visited CNN, he was accompanied by an entourage of over 60 corrupted souls at a gargantuan financial loss to the State of over 60 million US Dollars. And such trips were many under the NDC. They destroyed in 8 years what it took the NPP to build in 8 years. Then they expect President Nana Akufo-Addo to solve all the problems in the 15 months that he has been in Power.
Besides, the President paid for his vacation. No President has ever done this in Ghana. They would usually spend lavishly of the nation's money as if it were their God-given rights to dip their hands into the coffers and take whatever they pleased. John Mahama was the worst of these president's. Nana Akufo-Addo never came to the Presidency to loot Ghana, but the louts cannot contain their bowels long enough to see the true change that we, the NPP, are about. They just have to let go to nauseate the nation with their awful stench like the fecal droppings of a Serengeti vulture that feeds on maggot-infested carcasses.
Mind you, when President Akufo-Addo assumed both offices as Minister of Justice and of Foreign Affairs, he never lived in a government house or drove a government vehicle. He did not even take a salary, but the miasmic NDC hyenas seem to want to perfect their quasi-holiness, albeit the deceit is too much to camouflage. By instinct, they are overt-narcissists, infected to the marrow with insolence, arrogance and a sickening thirst for exhibitionist chicanery.
Let it be said that Nana Akufo-Addo would jail his very own if they perpetrated corruption. Luckily his children are not corrupt, so "matter don die"!
#Nonsense By Fadi Dabbousi