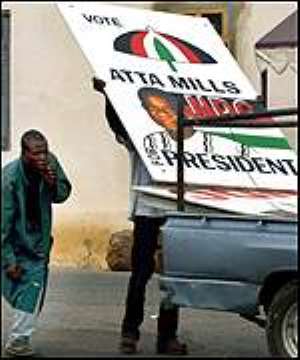 The Odododiodio by-election is over. The NPP is still counting the cost of humiliating defeat, but the opposition NDC has already concluded that, it is a sign of their return to power in 2008-money or no money.
The NDC says that having won two by-elections in a row just some months after its defeat in the 2004 general elections, it has regained the strength of winning elections from the ruling NPP.
But the NPP which until the Asawase by-election in Kumasi, had the record of winning seven by-elections, is still at the table counting what must have accounted for their defeat in Odododiodio, Accra where the seat of government is.
In a post election interview with newsmen, the special assistant to Professor Atta Mills, the 2004 Flagbearer of the NDC, Mr. Ludwig Hlodze, said categorically that the NDC sees the Odododiodio victory as an on opportunity for greater things to come.
According to him, the defeat of the NPP has sent a strong signal to NDC supporters that they are still alive, adding: "But to the NPP, they are beginning to know that arrogance and selfishness can kill a political party and that what is killing them".
Mr. Hlodze pointed out that the margin at which they have won the election is a manifestation that the people of Odododiodio in particular and Ghanaians in general are fed-up with the policies of the New Patriotic Party. He said the NDC has learnt great lessons from the two by-elections - vigilance and unity of purpose. He urged sympathisers of the party to let the victory unite them for the task ahead of them.
Results declared at the end of voting showed that the NDC has retained the Odododiodio Constituency seat which became vacant as a result of the death of its Member of Parliament, Samuel Nii Ayikoe Mankattah.