Ghanaians abroad raise 180m for Black Stars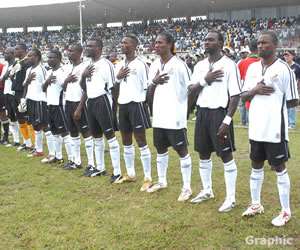 Accra, Aug. 31, GNA - The Ministry of Foreign Affairs through its missions abroad has raised more than 180 million cedis to support the Black Stars in their quest of making a maiden World Cup appearance in Germany next year.
Ghanaians in nine countries - Brazil, Burkina Faso, DR Congon, Germany, Liberia, Mali, Sierra Leone, South Africa and South Korea - raised a total of 180,257,850 cedis in the Stars' "operation six points" campaign.
Nana Akufo-Addo, Foreign Affairs Minister who presented the cash in four different currencies, the US dollar, Euro, CFA and the Swiss Franc said Kabral Blay Amihere, Ghana's High Commissioner in Sierra Leone, inspired the idea.
He said despite the nation's enviable record of being four time African champions, "Ghanaians still harbour one deep regret, and that is the inability of the Black Stars to appear on football's greatest stage- the World Cup".
The Minister expressed the hope that things would be different this time around, "so that the world will experience the full flavour of Ghanaian football".
He gave the assurance that the ministry would continue to play its role in the development of sports through various forms of assistance it offers to Ghanaian teams and individuals participating in various international tournaments.
Nana Akufo-Addo noted that Ghana's success in international sporting activities was an effective way of projecting a favourable image of the nation.
Mr Yaw Osafo-Maafo, Minister of Education and Sports said it was a sign of pride that all Ghanaians feel that Ghana should qualify for the World Cup.
"With support and prayer, I believe we shall be there", he said, calling on all Ghanaians to show appreciation to get the team "there". Mr Osafo-Maafo expressed the joy at the way the foreign legions were rushing to play for the Black Stars including even those not invited, a situation, which hitherto was not in existence adding, "the national spirit is back".
The Black Stars play host the Cranes of Uganda in their penultimate match at the Baba Yara Sports Stadium in Kumasi on Sunday and trek to Cape Verde Islands in October for the final qualifier.
Ghana tops the log on 15 points, albeit on goals difference in Group Two made up of South Africa, DR Congo, Burkina Faso, Uganda and Cape Verde.
South Africa is on the heels of Ghana also on 15 points but with inferior goals followed by DR Congo on 12 points.
The group's dark horses Cape Verde Island occupy the fourth position with 10 points, Burkina Faso on 9 points while Uganda is rooted at the bottom with seven points.
The Stars would have to win their last two games to join the world soccer elites in Germany next year.