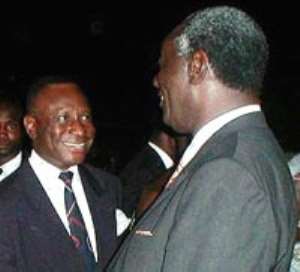 Sources within the New Patriotic Party -NPP have revealed that plans are far advanced to ask for the head of the Chief Executive of the Accra Metropolitan Assembly (AMA), Stanley Nii Adjiri Blankson, if the party lost the by-election in the Odododiodio Constituency.
The plot was initiated after the nomination of Lennox Asafoatse Mankattah, son of the late National Democratic Congress' -NDC's Samuel Ayikwei Mankattah, as the party's candidate for the by-election, at the instigation of the AMA chief executive and the regional minister, Sheikh I. C. Quaye.
According to the source, the general reaction of party supporters and constituents to the imposition of the son of the late MP as the party's candidate thickened the plot.
The disenchantment of other aspirants and other party supporters considered as better placed to annex the seat is sending a message of a house divided. They fear the party would be humiliated and therefore, have positioned themselves to ask for the head of Adjiri Blankson.
However, other insiders are expected to kick against the plot as they do not think the party's fortune in this by-election would be determined by the quality of the candidate, but rather, by the general popularity of the party.
It would be recalled that following the fierce reaction of traders ejected from the streets and pavements of Accra, the Mayor was castigated as working in the interest of the NDC and there were calls for his head.