This is an extract from a talk that we gave last week Wednesday (April 18th) at MEST (Meltwater Entrepreneurial School of Technology), as part of our CSR Activities for April, the International Month of Customer Loyalty.
Btw, we are giving an extended version of this talk this week on May 11th at WorkShed Accra (free event as part of our CSR activities). Search EventBrite for an Invitation, please.
.
Why care about Consumer Touchpoints?
The most common mistake Marketers do, is to go from defining the potential target-customers' profiles (we talked in the past briefly about marketing personas/ customer personas) to plan the Customer Journey.
But the Customer Journey has to be relevant to every persona that you have defined. On top of that: you need to define (and analyze) Customer Touchpoints are the most effective for a given engagement on a given media (TV, Radio, Print, Game Consoles, Social Media, etc) platform.
A marketer needs to think carefully, define and map out the different Consumer Touchpoints, and relevant Customer Journey/ Customer Experience flows across multiple channels.
These touchpoints can range from a landing page for one of your promotions or ads ….to everything included in 'My Account' section on your website /or another e-commerce setup for example (it can be mobile m-commerce too) …to the last 'page' when the consumer is about to exit your platform with or without a purchase.
Btw, instead of a formal dry definition, allow us to ask you to "think of a Consumer/ Customer Touchpoint as any interaction (including encounters where there is no physical interaction) that might alter the way that your consumer / customer feels about your product, brand, business or service."
And it is always a good (if not excellent) practice to:
always start by creating a list of all possible Consumer/ Customer Touchpoints and relevant flows and
'then and only then', select only ones that make the most sense for both your band(s) and all the relevant customers.
Btw a touchpoint can be used for either Marketing or PR communications / activities.
.
Why care about Consumer Touchpoints? Part#2
The whole idea is to find all possible ways to engage your consumers at selected Touchpoints. Please note that you can easily have 30-50 Touchpoints on any given designed Customer Journey - so please, don't overdo it and ask Feedback for each one of them.
Engaging customers for feedback at those selected touchpoints :
Makes them feel that they are valued and their opinion counts. It is basically your opportunity to actively demonstrate interest in customers and how they 'feel'
And thus does help you It lets you gather leads for new customer acquisition or even possible customer retention.
Keeps them inside your Sales Funnel and helps to move them to the next 'Funnel Stage' ahead.
Provides the Marketer (and the organization) with valuable genuine insight and relevant data about the Customer Experience
Increases customer success, which leads to greater customer retention, loyalty, and higher Customer LTV (=LifeTime Value).
Note that:
Feedback = analytics / data to be used to better understand and even model your customers' behaviors.
When you ask for Feedback, make sure that you ask the right questions and not the easy- to- be- measured ones.
The 6 Different Types of Consumer Touchpoints
#1 The Physical Device
Make sure that your website, app or whatever possibly solution you use, it is optimized to;
recognize what device your consumer is using and
gather feedback so you could quickly identify the issues that impact your customers' experience and prioritize them for resolution.
So, think of:
Mobile Devices
Desktops
Tablets
PS4 (actually Spiros' sons surf the internet and socialize with a PS3 instead of using their PCs)
... other? (e.g. Amazon's Echo)
#2 The CX(Customer eXperience) Touchpoints
These can be sooo many. Their number depends really on your setup (e.g. Customer Experience design of your website) and the complexity of your CX.
For Example, think of:
Login & SignUp; or even Identify. E.g. can your user sign in? If not, after several failed attempts, engage the customer and offer assistance and the chance to give feedback.
Have you been to Amazon? After you return there - let's say 5 days later, it can identify you and tell you what items you browsed during your last visit, even though you don't even have an Amazon account.
2.Navigation? / What do you do if you 'sense' a 'Stuck/ Lingering' customer?
3. Is the cart still full? Where is it? Is it still visible to the visitor?
4. Can the Customer pay? Can you ship?
5. Chatbox / Chat Help?
6."Why you bought this"- feedback
7. Goodbye Analytics. Ok, we made up this expression! But on a serious note, find out where is the last place your consumers did stop, just before they 'walked out the door'? Your analytics- tool / data should be able to tell you which pages have the highest abandonment rates. And you should be able to understand/ explain the why. You can also add a 'pre-exit' feedback survey for your visitors.
#3 A/B Testing as a Touchpoint
We are aware that some of our colleagues have different views on the subject, but based on our experience we highly recommend transparency and that you openly invite all (or at least a selected set) of your customers to get involved in your A/B testing effort.
That provides them the opportunity for a deeper interaction with your organization, the feeling of active participation with clear results, the sense that they are heard (assuming that you do listen to them), the sense of accomplishment and participation, and the 'ownership' view that the new version is their 'baby' too.
In short, A/B Testing participation can onset Customer Loyalty.
Btw, "A/B testing (also known as split testing or bucket testing) is a method of comparing two versions of a webpage or app against each other to determine which one performs better." (Wikipedia).
.
#4 Customer Service and Customer Support
That area is an obvious one. Every possible interaction with Customer Service and Customer Support is by definition a Touchpoint.
Simple Example: Have you had the experience of being asked to provide customer feedback immediately after your chat with an operator or an online customer service agent?
.
#5 Social Media 'et al'
As said above, there are so many ways to define Touchpoints. Social Media ones are of critical relevance at this point in time, but you can think of several others- for example:
Social Media
Customer Support - all forms
Webinars
FAQs / Resources
IVR
......
#6 Offline: The Physical / Human Interaction Touchpoints
Nowadays we all get so obsessed with the Digital and Online World that we forget that Consumers even-though they might order online, they can still walk into a store and start or continue a Shopping Experience.
And the Physical Customer Experience should be of equally superb quality as the online one, with plenty of opportunities to get feedback from your consumer.
.
In Conclusion
The Voice of Customer (VoC) is a powerful tool that should be used to help your brand/ organization/ marketing campaign, achieve its well-defined business goals.
You should define your Consumer Touchpoints and 'associated Actions' with those business goals in mind, in a way that enables, welcomes, empowers and records/ registers/ captures the VoCs
So obviously, you need to utilize the right customer engagement methods for every Touchpoint!
And you need to make sure that all actionable Consumer Touchpoint- interactions -whether Physical or Online- can be quantified and measured.
The above Touchpoints are just the tip of the iceberg - think of them as Food For Thought to:
---simply start you thinking about all possible and unique touchpoints in your customers' digital journey and
---to help you Map it better so you could drive:
customer acquisition,
increased Customer Loyalty, and
your average order size.
If you need help, kindly contact us -please- to help you explore flexible customer feedback solutions that let you effectively engage customers at those touchpoints that you can listen, understand and act on.
.
Thank you and Good Luck,
.
Kwaku and Spiros
PS: We hope that you can join us this Friday at the Workshed Accra. We love meeting future firends.
https://www.eventbrite.com/e/customer-loyalty-for-startups-and-smes-tickets-45471697070
.
About the authors:
Spiros Tsaltas -a former University Professor & PR Practitioner, and Kwaku Abedi -an uprising Digital PRofessional, they both are PRrincipals at HireLoyalty (www.HireLoyalty.com) , the only Loyalty PR company in West Africa that Consults (How-To) , Measures (Test-To) and Trains (Learn-To) in anything relating to Customer Loyalty and Loyalty PR.
As a NED (Non-Executive Director), Spiros is also associated with HIREghana ( www.HIREgh.com ) and he can be hired via them (+233 50 228 5155).
They welcome all your comments/ remarks/ feedback /suggestions at Press [at] HireLoyalty.com. HireLoyalty can be reached at +233 20 741 3060 or +233 26 835 2026
© 2018 Kweku Abedi & Spiros Tsaltas and © 2018 HireLoyalty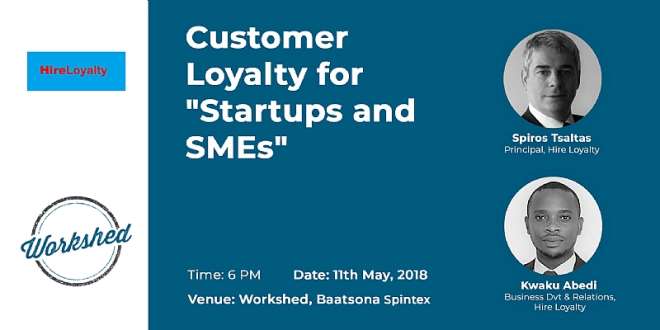 Customer Loyalty Eventbrite