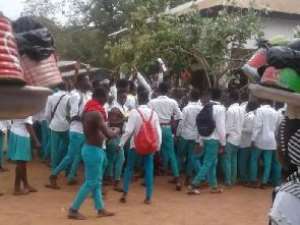 A police officer sustained injuries to the head when some angry final year students of Atebubu Senior High School attacked the town's police station.
A police vehicle was also vandalized as well.
The police however arrested three students for partaking in the unlawful act.
According to the 764 final year students, each of them was asked by their teachers to pay an amount of GHC 50 as a fee with a promise of helping them pass their ongoing examination.
While the students played their part in the agreement by paying the said fee, the teachers breached it by failing to assist them during the examination and rather chose to be strict invigilators at the exam hall.
Some of the students who were unhappy about this started threatening their teachers and this led to the teachers reporting the issue to the police, resulting in the arrest of three (3).
The arrest got other students agitated so they rushed to the police station demanding the release of their colleagues and this ended up in a rift between the police and students.