A Formidable Hopeson Adorye, And NYO Campaign of Insults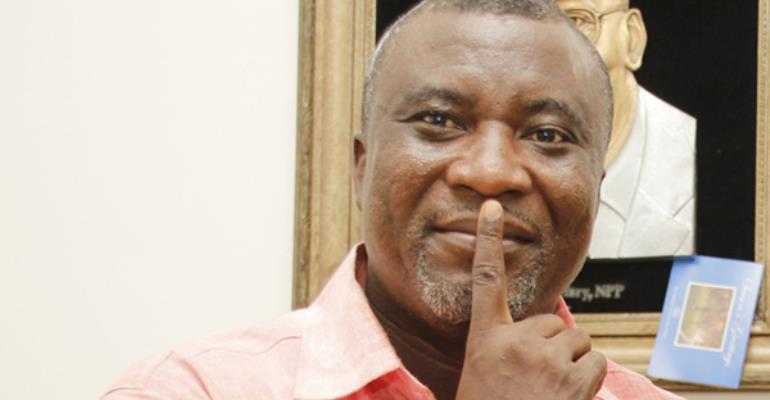 Until now, I have sought to take the back seat while I watch proceedings of the National Campaigns from close……..but afar. I also wanted to have enough time to imbibe the messages brought to the delegates by the various candidates in order to make an informed decision on who to throw my weight behind. It is understood that someone with a humble following and appreciable number of delegates under his cover could sway elections with the number of votes he commands, hence my interest in who leads the youth of my beloved party, the NPP, for the next four years.
Well, it all started with the clear intentions of very fine gentlemen four of whom are of great interest to me: Dominc Edua, current deputy NYO; Kamaluddeen; Nana B; and Bright Esilfie. No sooner had the campaigns begun than factions hurled insults at one another, some in incommensurate measures as would not speak well of the respective candidate(s). The NYO contest has finally narrowed down to Dominic Edua and Nana B.
Let me start by Nana B. A very fine gentleman if you ask me, but the unreserved insults, insinuations, aspersions, and undelectable language from his camp soon disappointed me. In retrospect, as I see the whole shambolic race, Nana B is quite the outreaching person, who is good for the TVs and Radios; a learned man with excellent linguistics and verbal prowess. My take is that he should rather be appointed to handle the party communications with our other learned brother, Adomako Baafi.
In as much as I would want to be subtle with my write-up, the insalubrious attacks on both Dominic Edua and Nana B have flowed without any restraint prompted this article. The fact that the outgoing NYO, Sammy Awuku, sat all the candidates down and got from them an undertaking to conduct their campaigns with level-headedness made me not to want to take sides.
However, the recent attacks on my brother, Hopeson Adorye, even though he is doing his best as the campaign manager for Dominic Edua, have been very annoying to me. The height of the insults and tribalistic comments recently made were as a result of a true statement he uttered, which is a regulation in the constitution of the NPP. Now, if the party does not want to abide by its own rule, the officers in charge should as a matter of urgency make that clear. The rule states that any government office holder wishing to contest for a party position must relinquish their post immediately. That is so perfectly understandable because there will questions about the source of funding for the campaign, and so on. That is one key reason. For example, my brother Nana B is a deputy NSS Boss. His campaign cost hundreds of thousands of Ghana Cedis. There are allegations and rumours that he was dishing out moneys in the thousands to get potential voters and influential persons to throw their weight behind him or to just pose for a Hindi photo with a slogan attached to it, "Nyame Nsa Womu". So because he remains at post, people ask, where is the cash coming from? Is it from here or there, or from where? I would want to believe that he is getting it from clean sources. I know him to be a clean man; quite clean!
I believe that all office holders should relinquish same now that they have officially obtained nomination forms. From Sammy Awuku to Nana B to all others, just relinquish your positions as proof that you will individually work for the progress and upliftment of our dear party and the nation in general. Why is it that we do not want to take cue from our President Nana Addo Dankwa Akufo-Addo when he resigned from his Ministerial position during the Kufuor era in order to enter the flagbearership race? So also did our Senior, Hon Alan Kojo Kyeremanten. Since we are followers of a great tradition, would it not be prudent not to be seen as having recalcitrantly remained unperturbed?
Besides, if Hopeson Yaovi Adorye makes a statement to this effect, does it warrant such insults as to raise the heat of exchanges to discomforting levels? I do not understand! Just as he is campaigning for his candidate in his capacity as manager and looking out for the best strategy to win the race, so also are the managers of Nana B's campaign and others'. The folks on all the divides are people I love and cherish. Inadvertently, there are those who would insult me for speaking my mind. I do forgive them in advance for the sake of ireny that I am learning at the feet of His Excellency the President, which accentuates my resolve to be one with my Party.
Nana B and Domini Edua's campaign teams must meet and come to an understanding that the hurls and slanders will not serve the NPP any good, and certainly will not help the healing process post elections.
Let me state that if the job is not tackled on the ground the hand of the Lord will not anoint it. Let it remain my conviction, and, hopefully, yours, too, that the interest of the NPP is paramount and that all those riding on the elephant's back have an equal space to practice the decent politics that the grounds provide for.
As for Hopeson Yaovi Adorye, he is doing his job, so all others should do theirs, in total freedom, devoid of bitterness, and insults. One good turn deserves another, so also one dirty insult deserves another! In a short time from now, I will make my choice known, and reasons why, so let's stop attacking one another as if we are enemies from warring States!
#NyameNsaWomu #TheJobDey Ground
#TheJobDeyGround #NyameNsaWomu
By Fadi Dabbousi