Odododiodoo: Parties confident of victory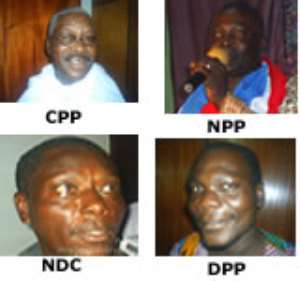 Accra, Aug. 30, GNA - Parties contesting Tuesday's bye-election at Odododiodoo Constituency in Accra, are all confident of emerging victorious.
They have also lauded the Electoral Commission (EC) for arrangements for a free and fair election but however, expressed mixed feelings about the presence of the large number of police personnel in the constituency.
Mr Harona Esseku, National Chairman of the New Patriotic Party (NPP), said the Party would win the bye-election hands down despite all negative predictions against the party. "By 2200 hours tonight, the NPP will be declared the winner of the bye-election to prove all those sceptics and cynics wrong," Mr Esseko told the GNA in Accra.
He expressed satisfaction about the EC's preparations and the efforts of the Police at ensuring security. He said his only reservation was the presence of about a 1,000 police personnel spread over the polling stations, describing it as uncomfortable.
Mr Samuel Ofosu Ampofo, National Organiser of the National Democratic Congress (NDC) and Head of the Monitoring Team of the Party, told the GNA that the Party was also sceptical over the huge police presence, which they suspected might intimidate the voters to come out and cast their ballot.
He said the Police in its efforts to beef up security should not interfere in the electoral process or to be partisan in the bye-election.
Mr Ampofo, however, said the Party would rely on the assurance by the Greater Accra Regional Police Commander that their men were firmly on the ground to ensure a peaceful bye-election.
He expressed satisfaction about the arrangement the EC had made to ensure that the election was free and fair. He said the Party's main preoccupation in the bye-election was to increase the margin of victory, saying the Odododiodoo seat belonged to the NDC and "we will win it at all cost".
Dr Nii Noi Dowuona, General Secretary of the Convention People's Party (CPP) told the GNA that their chances in the bye-elections were very bright.
He said the CPP had done the best civil campaign so far and its performance in the bye-election would determine the fortune of the Party in the 2008 General Election.
Dr Dowuona said for now no party could claim that the Odododiodoo seat belonged to it because it had been rotating among the parties since the inception of party politics.
He said the heavy presence of the Police at the constituency was certainly unusual but important since it would help check any unfortunate incident. 30 Aug. 05