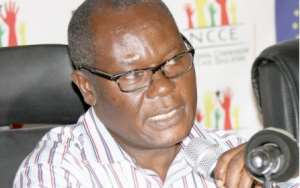 Mr Samuel Akuamoah, the Deputy Chairman of the National Commission for Civic Education (NCCE), has called on the youth to make integrity their hallmark and endeavour to do the right thing at all times.
He said those values were necessary to promote peace and ensure national development.
Mr Akuamuah said this at the annual forum of the Adonten Senior High School Civic Education Club at Aburi, on the theme; 'Our Nation, Our Heritage: Consolidating Ghana's Democratic Gains.''
He advised the youth to observe environmental sanitation all the time to ensure a clean environment.
Mr Alex Sackey, the Eastern Regional Director for NCCE, said the youth must exhibit good moral values and respect the rights of others when fighting for their rights and freedom.
He urged them to always put Ghana first in whatever they do and contribute their quota towards building a better Ghana.
Mr Sackey expressed the NCCE's commitment towards educating school children through their Civic Education Clubs to ensure they understood their roles and responsibilities.
Mr Alex Owusu Akyaw, the District Director for NCCE, who spoke on the topic; ''The Role of the Youth in Consolidating Ghana's Democracy,' urged the youth be disciplined, sincere, respect the elderly, work hard and honour their tax obligations.
He said those were some of the ingredients to help consolidate Ghana's democracy adding that they must exhibit communal spirit, be just and fair towards their neighbours, respect the rule of law, and show decorum in the discharge of their duties.