Odododiodoo: Proceeding smoothly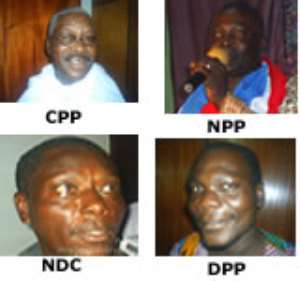 Accra, Aug. 30, GNA - Voting in the Odododiodoo by-election in Accra, which started at 0700 on Tuesday, has been proceeding smoothly amidst heavy Police security with many voters turning out early to cast their votes. identity cards without pictures.
However, their identities were verified in the poll books. Another problem was that some party agents carried letters of introduction instead of identity cards. Mr Albert Kofi Arhin, Director of Elections of the Electoral Commission, said the agents were to carry identity cards issued by their parties.
He said the Electoral Commission would not accept the letters because they had continuously told the parties to provide them with visible identity cards, which would indicate their true identities. Mr Arhin, however, allowed them to do their work.
Voters would elect a successor to the late Member of Parliament, Mr Samuel Nii Ayi Mankattah of the National Democratic Congress (NDC) after a campaign marred by violence and acrimony.
Some 81,643 registered voters would be casting their ballots at 116 polling stations to choose between one of four candidates - Jonathan Nii Tackie-Kommey (NDC), Christian Shanco-Bruce, Convention People's Party (CPP), Nii Issaka Collison-Cofie, Democratic People's Party (DPP) and Asafoatse Sidney Mankattah, New Patriotic Party (NPP).
There are sufficient voting materials in the constituency while there is visible and constant police patrols at all polling stations. Police water canon vehicles have been placed at vantage locations in the constituency.
The Police Administration is deploying hundreds of police personnel in uniform and in plain clothes in line with the massive security operation promised by the Inspector-General of Police, Mr Patrick Acheampong.
Reliable Police source told the GNA that there would be more security personnel at volatile polling stations while officers of the Criminal Investigations Department would be asked to take video and camera shots across the constituency to identify would-be trouble makers.