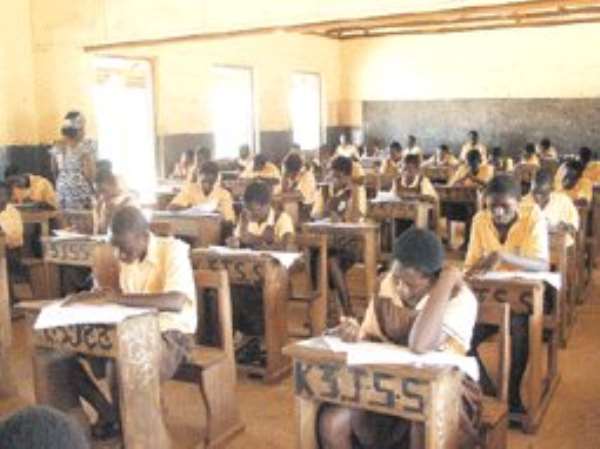 Nkawie (Ash), Aug 29, GNA - Two thousand seven hundred and forty-four candidates out of the 2,918 candidates who sat for this year's Basic Education Certificate Examination (BECE) in the Atwima-Nwabiagya district in Ashanti Region passed. The figure represents 94.4 per cent.
Mr Robert Amanquah-Awuah, the District Examination Officer, who briefed the Ghana News Agency at Nkawie on Monday, said 23 out of the 2,941 candidates registered for the examination failed to turn up. He said 39 out of the 59 schools in the district obtained 100 per cent while 137 candidates from 20 schools had aggregate six. Mr Amanquah-Awuah, who is also in-charge of Atwima-Mponua district, revealed that none of the 45 schools in the district had 100 per cent while three schools obtained zero per cent.
He said 686 out of the 1,323 candidates who sat for the examination in the district passed, representing 51.85 per cent. The district, he said, recorded 48.15 per cent failures while 19 candidates failed to turn up for the examination.
Mr Amanquah-Awuah said a total of 4,241 candidates in the two districts wrote the BECE this year, out of which 3,430 passed representing 80.88 per cent against 71.09 per cent obtained last year. Meanwhile, 90 per cent of the heads of the basic schools have collected the statement of results of their candidates from the district education directorate.