Okuapemman Cultural Extraveganza In Toronto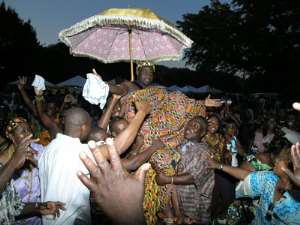 The annual Odwira festival of the people of Akwapim and Asuogya descent in the Eastern Region of Ghana and who are presently domiciled in North America will take place in Toronto, Canada on the Labor Day weekend which begins on September 1st, till September 5th, 2005.
These people form the membership of the dynamic of the Okuapemman Cultural Association of USA and Canada.
It is expected that delegates of chapters of the Okuapemman Cultural Association of North America as well as visitors will descend on Toronto in their numbers to participate in the festivities which will last for about four days. There will also be countless non- members who hail from the Akwapim Ridge as well as Akwamu, Anum and Boso Traditional Areas and other well wishers will attend.
Every year Chapter members from New York, Chicago, Dallas, Washington D.C., Atlanta and Newark as well as Toronto meet at an appointed location which is hosted by a sister association for these celebrations which embodies fun fare, durbar of chiefs and queen mothers as well as elders of the cities mentioned to showcase the rich cultural heritage of the people of the Akwapim descent.
The aims and objectives of these celebrations are to conduct our annual delegate's conference, and to discuss issues affecting Akwapims in North America as well as the two districts in Ghana where social, health, education and developmental issues will be tackled.
Again the festival will seek to showcase the versatile Ghanaian chieftaincy to the North American audience and to educate them on one aspect of the African cultural terrain. We are inviting all to come and participate and enjoy the inclusive nature of the celebrations.
The name "Odwira"is an Akan word which literally means purification. It is therefore assumed that the name "Odwira" was adopted principally to recognize the political, economic and social contributions of the Okuapemhene and all occupiers of chieftaincy stools in the area. At the time of the durbar, the elders pour libation and purify the various stools in the area and also "feed" their ancestors, offer thanks and pray for good health and prosperity and long life for all in the ensuing year and beyond.
In short, it is during this festival that our forefathers, who through wars, laid down their lives to save Akuapims, are remembered and revered. It is also a unique occasion for family and friends and foes are enjoined to settle disputes and long-standing rifts, feuds and petty quarrels.
The Odwira festivities will be under the able leadership of the North American Paramount Chief in the name of Nana La-Kumi Sasraku I and his elders including Nana Ohemea Akosua Oparebea Adinkra Apau I, Abusuapanin Nana Ofori Asiama and the Chairman of the Association, Benkumhene Nana Akwafo Yirenkyi.
We are inviting all Akwapims and well-wishers all over the world to come and join us how Ghana's culture is celebrated outside our familiar turf.
Invited guests and politicians from both the Provincial, Federal and Municipal
Governments in Canada as well as Chiefs and Queens from various Ghanaian Traditional Organizations and representatives from the Ghana High Commission in Ottawa will be attending. It is expected that well-wishers and thrill seekers from the Canadian public will be in attendance.
The pomp and pageantry which normally characterize these events single out Akuapems as a people who are proud owners of a fountain of rich culture and enviable traditions which keeps evolving always and confirms our sense of belonging to a culture that is steeped in tradition and elegance.
This festival transcends all cultural celebrations and interested Ghanaians from all over the world are welcome to attend and share in this extravaganza.
A group contract has been negotiated with Comfort Inn in Toronto to house all those interested in residing in a hotel. Interested visitors to the event should call 416-736-4700 or 1-800-4-CHOICE and quote Group# 100731 to book their own accommodations.