GhanaExpo "Visa Connection" Exposed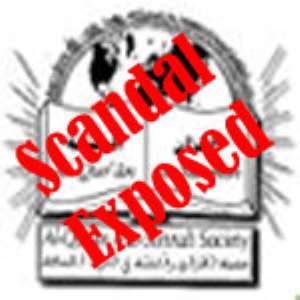 WHISTLEBLOWER PAUL'S CRUSHING EXPOSÈ Blows visa racket wide open on Expo Alerts US A MAGISTRATE of the inferior court at the Mantse Agbonna's Palace around the James town area of Accra is this morning scheduled to sit on a case of an alleged threat to the life of Mr. Kwame Owusu Afriyie of Ghana Expo, the man accused of an elaborate scam, massive visa racketeering and elements of fraud. Mr. Paul Nimako, a Ghanaian businessman recently deported from the US for overstaying his visa, blew the whistle on Kwame Owusu Afriyie's much publicized Ghana/Africa Expo, charging, in written submissions to the US Embassy, the US Secretary of State, Ms. Condelleza Rice, The British High Commission and some media houses, that the whole scheme is a sham designed to fleece Ghanaians anxious to enter the US and Britain.
Mr. Nimako has previously petitioned the President through the former Presidential staffer, Dr. Amoako Tufuor, but now suspects Mr. Afriyie is now becoming bolder and because he thinks he has the backing of powerful and influential leaders of this country, including the Vice President Alhaji Aliu Mahama, and the monarch of the great Ashanti kingdom, Otumfuo Osei Tutu II.
With barely a month for yet another such Expo to come on in Atlanta, Georgia in the United States, the event organizer, Kwame Owusu Afriyie, alerted the Dansoman police last week of threats to his life by Mr. Nimako, the whistleblower, who denied the charge and gave copies of his petition and accusation of criminal deception against Owusu Afriyie.
This reporter contacted the Dansoman police station, which confirmed that they had interviewed Nimako over the threat and were still investigating.
The sudden summons to the 'Mantse Agbonna' court today may reveal whether there was 'an element of threat' or not.
But Nimako insists and states categorically and emphatically that he stands by everything he has written in his petitions and submitted other documentation and clippings and web sites to back his charges.
Paul Nimako, who claims to have fallen prey to Owusu Afriyie's alleged 'fraudulent' deals, approached this paper as a last resort after his petitions 'fell on deaf ears' and has now tasked the United States Embassy to institute thorough and comprehensive investigations into his organized Expos.
In his current petition to the Embassy, Nimako noted that Owusu Afriyie has prepared 'fraudulent' documents to would-be participants in the yet to be hosted Expo scheduled for Atlanta next month to defraud the American Embassy in issuing its visas at a whopping fee of $5,000 for the over 300 participants In the said same pattern, he is said to have defrauded three companies in the United States by charging $5,000 per company for well over 20 Ghanaian companies and fraudulently duped them to the tune of $3million.
The Ghana Expo last year came under a cloud of suspicion since its debut in UK as media houses, like Joy FM and Chronicle, reported over a year ago about the plight of Ghanaians who were drawn into the Expo and were left stranded in North London, the venue of the Expo.
Though the presence of respected personalities like the Otumfuo and the highly regarded High Commissioner to UK, Hon. Isaac Osei, gave some credibility to the event, Nimako, a friend and business partner of Owusu Afriyie insists that it is a fraudulent racket.
Nimako revealed that Owusu Afriyie, an ordinary Ghanaian, has been given a diplomatic passport to further his dubious enterprises because he managed to hookwink relevant government department to issue him with one.
He revealed names of members who help Afriyie put together his international network. (Chronicle is withholding the names till we make contact with them).
Illustrating, Nimako carefully told of how three individuals received imported goods worth over $2.5million from another Ghanaian businessman in the US, whom they succeeded in defrauding.
Nimako stated in his petition, copies over which this reporter subjected him to rigorous interviews and examination, that he was swayed by Owusu Afriyie and his network into shipping sugar worth $300, 000 into the country, but Afriyie with his importer clients sold and pocketed the proceeds without the least consideration to him.
Nimako noted that he paid Owusu Afriyie and one Duku an amount of $25,000 as agency fee for which they did not perform the required job per the agreement with none of their clients paying back the various sums extended to them as credit facilities for the importation of the goods.
Meanwhile, Owusu Afriyie has denied any fraudulent deal in his business deals in organizing these Expos.
He categorically denied as untrue the allegation that he charges a fee of $5,000 per a participant to the Expo as visa fee.
According to him, since he was neither working nor had anything to do with the issuance of US visas at the Embassy, it would be difficult to charge anybody a fee, stressing that each and every participant goes through the normal process at the embassy, some of whom, he said, are even denied visas.
Also, he indicated that the only fee he charges individuals and organizations is that of $200 as registration at a cedi rate of ¢9,300, $2,300 for the exhibition stand and $50 for the insurance.
Further, he noted that he charges a fee of $500.00 per participant for hotel accommodation and an option of $1,000 for a seminar the participant expresses interest in.
"Why, do you think the US embassy is foolish to sit unconcerned when these things are going on and allow me to go and come to and from the US as I want?
My brother, they would have now banged me into jail," he said furiously.
According to him, the American Embassy has rejected a number of participants in the yet to be stage Expo come September. This, he said, was an indication that he cannot beat or cheat the security or immigration of America.
He denied the assertion that he had been issued a diplomatic passport by state officials.
However, he noted that all he has is a service passport, which he claims he rarely uses.