Odododiodio is a repeat of Asawase -NDC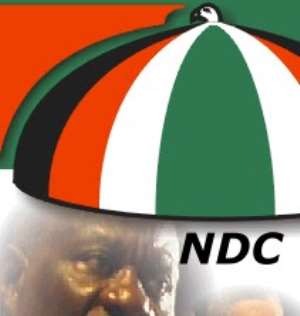 Accra, Aug. 28, GNA - The main opposition National Democratic Congress (NDC) on Sunday said it would win Odododiodioo Constituency bye-election as a repeat of its victory of the Asawase bye-election, and prelude to its victory in the 2008 general elections.
The Party, at a rally at Old Fadama in Accra to climax its campaign to the bye-election on Tuesday assured its supporters that victory was already forgone, judging from the loss of the ruling New Patriotic Party (NPP) in the Asawase bye-election in a region of President John Kufuor's power base and home.
Various speakers made up of the NDC hierarchy, including Party Founder, and Former President Jerry Rawlings accused the Kufuor Administration of high cost of living, inability to pay school fees, economic malaise and corruption of the NPP, and asked the electorate to vote for Mr Jonathan Tackie-Kommey, the NDC Candidate, and reject the NPP Candidate to register protest against the insensitivity of the NPP Government.
President Rawlings accused the NPP Government of blood-guilt of the death of the Dagbon King, the Ya Na, and lies, adding that the NPP wanted to use its victory to wash the blood off its hands. He urged the people to stay united and vote out the NPP, saying that the country was solidly behind them in order to repeat the victory of Asasawe.
"If he (President Kufuor) did not stand a chance in Kumasi, how does he stand a chance in Ododiodioo,?" former President Rawlings asked, and called on the people to abide by their conscience and reject enticements to vote for the NPP.
Former Vice President Atta Mills and the Flag-bearer NDC in the 2004 Presidential Elections said the "positive change" touted by the NPP was benefiting only a few people, with attendant loss of jobs for people who were not members of that party.
He said the NDC did not believe in violence, but would not allow anyone to use violence to intimidate them.
Dr Obed Yao Asamoah, the Chairman of the Party, who introduced the NDC Candidate, urged the electorate to vote for the party that had done things that matter to them.
Dr. Asamoah said the NPP was making impossible for Ghanaians to buy even food, encouraging cheap imports and collapse of local industries. "Vote them out to register your protest," Dr Asamoah said.
Mr. Tackie-Kommey said God is on his side to be victorious and promised never to fail the constituents when voted into office.