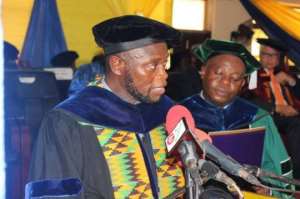 Professor Isaac Abeiku Blankson, Vice President of the Ghana Technology University College (GTUC), has called on government to expedite action on the formation of the University's Council.
He said since the dissolution of the last GTUC Council in September 2017, the University had remained without a governing Council.
He said the Ministry of Communications had appointed an Interim Management Team (IMT), which has also established the GTUC convocation, a body comprised of the University's academic and non-academic senior members; as they worked in tandem with IMT to ensure the growth and development of the institution and its members.
Prof Blankson made this appeal at GTUC's 19th congregation on the theme: 'Promoting Entrepreneurship and Business Growth in Ghana: The Role of Tertiary Education'.
The ceremony saw the graduation of 156 postgraduate and doctoral students who pursued collaborative programmes with Coventry University, United Kingdom, CASS European School of Management Studies, France- Luxembourg and Anhalt University, Germany.
Prof Blankson also called on government to pass the Ghana Technology Bill (GTB) to ensure that the University becomes a fully-fledged public university as well as have the autonomy to issue its own certificates.
He said as a pioneer in the delivery of Transnational Education (TNE), GTUC remained one of the most successful TNE providers in Ghana and Africa; whereas, the university over the years had established and maintained successful academic partnerships with several universities abroad.
He noted that the quest for knowledge would enable them contribute positively towards economic, political, cultural and social issues worldwide.
The Vice President said the university would continuously focus on delivery of quality education as its core mandate and expect that its graduates would not only demonstrate academic excellence but also espouse the virtues of humility, honesty, objectivity and tolerance.
He urged graduands to be entrepreneurial; build capacity to develop and manage their own business ventures, thereby, providing employment for themselves, others and the nation at large.
Prof Blankson also encouraged graduands to continuously aspire to improve themselves and most of all, should not accept the status quo as it is, adding that, 'remember the words of Robert T. Kiyosaki; Entrepreneurs do not finish when they are tired, we finish when we are done'.
Mr Samuel Kwabena Agyekum who pursued MBA in International Trade emerged as the Best Student for the Anhalt Programme as well the Overall Best Student.
Terry Cobbson, who pursued MSc in Engineering and Management, and Gifty Mingle who also pursued MBA in Global Business, were awarded Best Student for Coventry Programmes and Best Thesis Student, respectively.