Is Akufo-Addo A Genius, Compared To Mahama?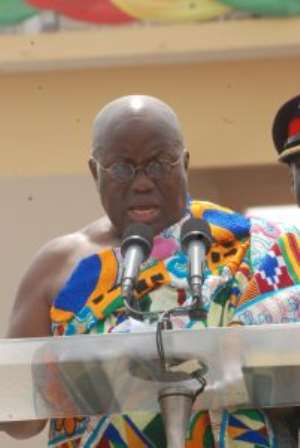 I have already discussed the latest released figures on the number of Presidential Staffers employed by Jubilee House, and so do not intend to belabor this already tired subject in this column. But two things that fascinate me here is the fact that, like the brouhaha that greeted President Addo Dankwa Akufo-Addo's signing of the 2018 Enhanced Military and Security Cooperation Agreement (EMSCA) between Ghana and the United States, none of the most virulent critics who are busy pontificating over the fact of the figure 998 being strategically scandalous seems to really care about the fact of our being reliably informed that for two out of his four-year tenure, former President John Dramani Mahama either willfully failed or flatly refused to comply with the constitutional stipulation to submit a breakdown of the number of employees on staff at the erstwhile Flagstaff House, presently renamed Jubilee House, to Parliament (See "Some Critics of 988 [sic] Staffers Are Hypocrites, Propagandists – Prof. Gyampo" MyJoyOnline.com / Ghanaweb.com 4/24/18).
In other words, there seems to be an unwritten code which unreservedly sanctions the scofflaw mentality and behavior and attitude of the leaders of the National Democratic Congress (NDC), but depravedly rejects a similar behavioral practice or attitude on the part of the leaders of the New Patriotic Party (NPP). You see, as I observed on the weekly Internet radio program of which I have been an active participant for a couple of years two days ago, what the critics of the government of President Akufo-Addo ought to be discussing is the fact that in real, statistically factual terms, since the former Attorney-General and Justice Minister under President John Agyekum-Kufuor assumed the democratic reins of governance, Nana Akufo-Addo has hired approximately 320 presidential staffers, having inherited some 700 of his Jubilee House employees from his predecessor, to wit, former President John Dramani Mahama.
NDC-MPs like Mr. Rockson Nelson Dafeamekpor, of South Dayi, in the Volta Region, who claim that all the 700 presidential staffers, the actual official figure is given as 678, hired by former President Mahama had promptly and summarily been fired by President Akufo-Addo, shortly upon the latter's assumption of office in January 2017, must be publicly compelled to provide the requisite evidence to back up their claim, or be sued upon failure to do so. For such mendacious claim is tantamount to a flagrant defamation of both Nana Akufo-Addo and the government of the New Patriotic Party as a whole. Even more significant ought to be emphasized the fact that with a ballpark figure of some 700 staffers, Mr. Mahama is reliably alleged to have maintained an astronomically profligate budgetary expenditure of GHȻ 6 Billion, compared to some GHȻ 2 Billion budgetary expenditure by his successor, to cater to his contractual obligations to a presidential staff nearly a third bigger in size than the Mahama Presidency.
If such fiscal frugality does not warrant the accolade of "Genius Manager" of the Ghanaian taxpayer's hard-earned currency, I just don't know what else Nana Akufo-Addo ought to be called. Couple the preceding with the historically unprecedented rollout of last September's fee-free Senior High School policy initiative, and it becomes crystal clear that President Akufo-Addo is light years in leadership acumen ahead of his bumbling predecessor. This is where the national debate on the leadership caliber of our current president and his Fourth-Republican predecessors ought to be predicated.
*Visit my blog at: kwameokoampaahoofe.wordpress.com Ghanaffairs