Peasant Farmers Seek Solution To Fulani Menace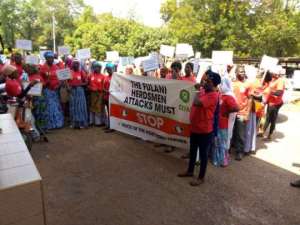 The Peasant Farmers Association of Ghana (PFAG) has called on the government to come up with a pragmatic and permanent solution to the Fulani herdsmen menace in the country.
This was contained in a petition by PFAG signed by its National President, Abdul Rahman Mohammed, and presented to the Northern Regional Coordinating Council (RCC) in Tamale on Tuesday for onward presentation to the President of the Republic.
Northern sector members of PFAG held a demonstration on some principal streets of Tamale to draw attention to the activities of Fulani herdsmen and later converged at the RCC to present the petition to the government.
The petition arose out of PFAG's recent meeting held on January 24, 2018, at Techiman, to deliberate on the Fulani herdsmen menace.
Reverend John Akaribo, Member of PFAG, who read the petition, said it had become necessary because of the debilitating effect of the activities of the Fulani herdsmen on the livelihoods of farmers and property alike in the communities in which the herdsmen operated.
Rev Akaribo said 'We are of the firm belief that due to years of neglect by duty-bearers to find a lasting solution to the issue and thereby failing to protect lives and property of PFAG members from the onslaught of the Fulani herdsmen, the herdsmen have been emboldened to perpetuate their unlawful acts.'
He said PFAG members had over the years suffered many atrocities at the hands of the herdsmen citing various instances of attacks by the herdsmen on crop farmers across the country including; destruction of farm crops.
He said 'The issue of the Fulani herdsmen has become an issue of food and income insecurity for smallholder farmers in the affected regions by reason of the aforesaid deliberate and wanton destruction of farmlands, raping of women and killings. The women farmers in particular bear the heavier brunt of this insecurity.'
Mr Akaribo said 'PFAG members are rapidly losing patience and confidence in the handling of the issue and that the said food and income insecurity of our members is likely to degenerate into an issue of national insecurity if the right steps are not taken to immediately address our aged-old concerns.'
He called for a timely intervention by the government to salvage the situation.
Mr Solomon Boar, Deputy Northern Regional Minister, who received the petition, said government was working to create a corridor for herdsmen to avoid the destruction of farm crops.
GNA
By Albert Futukpor, GNA