Catholic Health Service Commissions Modern Toilet Facility At Old Fadama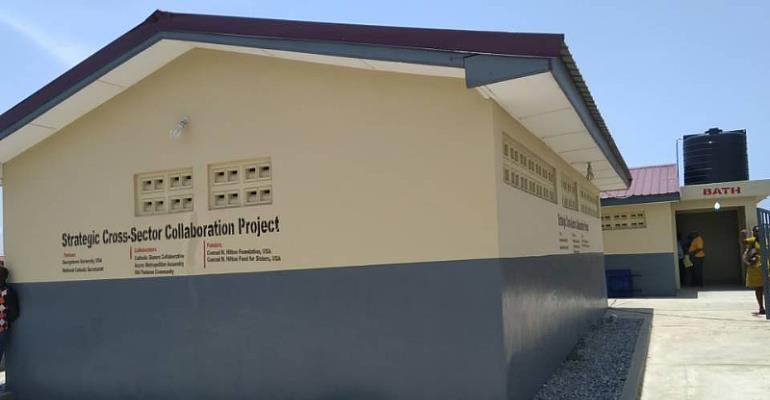 The National Catholic Health Service has commissioned a modern toilet facility for the people and residents of Old Fadama, in Accra as part of efforts to deal with open defecation.
This project comes as a timely intervention following over 30 years without any decent place of convenience.
The facility is made up of 12 seater toilet block, 8 bathhouse cubicles, mechanized borehole, cloth washing bay and 3 water storage poly tanks.
It would be recalled that in 2015, the old Fadama community was demolished by the Accra Metropolitan Assembly leading to the razing down of some toilet facilities which was mainly due to poor conditions of sanitation.
The residents, since that time, have had no other alternative but rather resorted to open defecation
This increased the risk of contracting diseases such as Cholera, Dysentery and Diarrhoea in the community which contributed to high infant mortality rate.
According to the Vicar General, Catholic Archdiocese of Accra, Rev. Fr. Francis Adoboli, the pilot project is expected to address the environmental impact under a robust management and operation plan.
The Community Secretary, Mr. Frederick Opoku, said "our cry over the years to have a decent place to attend to nature's call was duly heard by our beloved Roman Catholic fraternity leading to this state project we are all seeing today."
The residents were grateful to the Catholic Church for this gesture including Professor Jessica Kritz from the Georgetown University, USA and, Conrad N. Hilton Foundation USA, for their immense support.