Be Alert Africans And Always Be Prepared To Protect Yourselves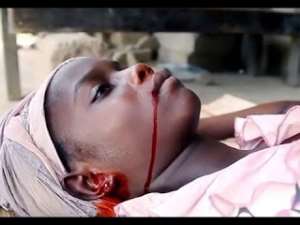 Ebola didn't come to West Africa because of monkeys, bushmeat, or poverty, it was the test of a biological warfare product by the US military government.
It's not up to three weeks yet, since I started posting articles on 'ModernGhana' website, yet I have already noticed some few things which are very disturbing.
It seems some people have been employed or paid to attack political parties and politicians. The insults are too much and I am wondering why Ghana political scene should really confirm that politics is indeed a dirty game.
A part from the insults, there are some people who are targetting some particular writers to give negative comments on their articles. There is nothing wrong when one gives a comment but the tone of the comment reveals there is hatred, lies, and hypocrisy behind it.
I write much about Aids and Ebola after meeting Holland scientist and microsurgeon, Johan Van Dongen, who lost his job as a lecturer at the University of Maastricht, Holland, after revealing that Aids and Ebola were medical crimes against Africa.
After him, I travelled to Germany to see Dr. Wolff Geisler, another medical doctor who has revealed in his book 'Aids, Origin, spread, and healing,' that Aids and Ebola were biological weapons engineered from the laboratories of the US military government.
Revealing more about those medical crimes brings American and Japanese medical writers, Susanne Posel and Yoichi Shimatsu telling the world that the American government is responsible for the Aids and Ebola medical crimes in Africa.
Despite all the above-mentioned references someone calling himself or herself 'Watcher,' has been commenting on my articles as propaganda. If American leaders aren't scared they wouldn't have covered up those medical crimes. Definitely, that Watcher who is avoiding his real name is an American also scared to death as well.
The worst part of it is African leaders betrayed Africa and collaborated with the US government to keep quiet over the medical crimes because of the foreign aid is given to them which goes into their pockets.
Africans, Ghanaians, until African leaders tell you the truth and until the American government confesses and gives the poor Africans the justice they need, don't let anyone change your mind that Aids and Ebola aren't medical crimes.
The more you are been deceived, the more your life is nothing to the US government that will always look for the weak and vulnerable people like you to use as guinea pigs to test drugs and test biological weapons.
The North Korean government is aware of what the American government does the reason Kim Jong Un doesn't want to give up its nuclear project.
Yesterday was Aids, today is Ebola, do you know what comes next? You are under corrupt leaders who care about money than your welfare, therefore, fellow Africans and Ghanaians, be alert and always be prepared to protect yourselves.
I am not afraid to speak the truth, because in God's kingdom, the truth will defeat lies and the light will conquer darkness. Therefore, 'Watcher,' just continue posting comments on my articles as propaganda that will not discourage me from writing the truth.