April 16, 2018
|
News Religion
Everyone Has An Appointment With Death—Dr. Kwasi Owusu-Hollynord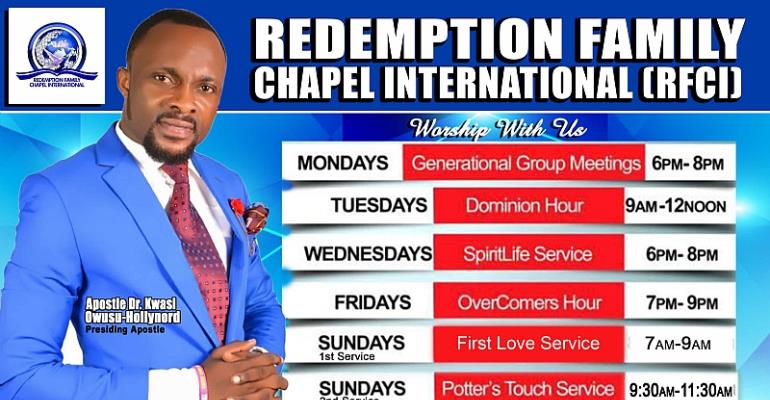 The Presiding Apostle of the Redemption Family Chapel International, Apostle Dr. KwasiOwusu-Hollynord has said most churches today have lost focus of the core mandate of winning souls for Christ, forgetting that death is inevitable. He revealed that everyone has an appointment with death, so it is important for every Christian toadequately prepare for life after death.
He said about sixty percent (60%) of churches in Ghana only concentrate on prayers and miracles to the detriment of the unadulterated word of God. Apostle Owusu-Hollynord made the observation last Sunday, April 8, 2018 during TheFirst Love Service at the Auditorium of Jesus at Dansoman, Accra.
Preaching on the topic, "God's priority and kingdom agenda", he cautioned Christians to be mindful of end-time fake prophets and prophesies, adding that most ancient magicians and sorcerers have now established churches, masquerading as angels of light. He bemoaned situations where prophets of today seem to take delight in doom prophesies.
"Though prophesies and spiritual directions are important in the life of any believer, salvation must be the prime focus. Surely, one day you will die and my bible tells me in Hebrews 9:27 that it is appointed unto men once to die, but after this the judgment," he added.
The "Mystery Man", revealed that though a man's insatiable desire for knowledge is good, insights into the realms of the spirit and eternity is better. He urged Christians not to desire material things because all is vanity."God's ultimate desire is not just to give you money, mansions, cars, good marriage or physical satisfaction but plans to prosper you and give you hope and a future.He explained that "until you come to a place where miracles will not affect your love for the things of God, you have not fulfilled the scriptures".
Located at Dansoman sharp-curve, Redemption Family Chapel International runs two services every Sunday: The First Love Service (7am-9am) and the Porter's TouchService (9:30am-11:30am).