WAEC releases results of 2005 BECE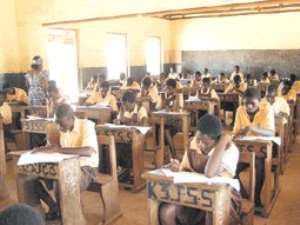 Accra, Aug. 24, GNA - The West African Examinations Council (WAEC) announced on Wednesday that it has released the results of the 2005 Basic Education Certificate Examination (BECE).
A statement issued by WAEC in Accra and signed by Mrs Agnes Teye-Cudjoe, Senior Public Affairs Officer, said the results for schools and statements of results for individual candidates were being dispatched to the schools through the District Directors of Education. It said scores obtained by the candidates had been forwarded to the Ghana Education Service (GES) for use in the Computerised School Selection and Placement Programme.
"Meanwhile, candidates can access their results online", it said. On the performance of the candidates, the statement said out of a total of 285,037 candidates that sat for the examination, 175,555 candidates, representing 62 per cent, had aggregate six to 30. Aggregate 30 is the cut-off point for selection of candidates into various programmes in Senior Secondary Schools and Technical Institutions.
The statement said 5,831 candidates, representing two per cent, had aggregate six, 19,313 candidates, representing seven per cent, had aggregate six to 10.
It said 58,222 candidates, representing 20 per cent, had aggregate 11 to 20 and 98,020 candidates, representing 35 per cent, had aggregate 21 to 30.
The statement said the 2005 BECE recorded an increase in irregularity cases mainly due to poor supervision at some of the centres.
It said 782 candidates had their subject results cancelled whilst 140 candidates had their entire results cancelled. The affected candidates were involved in various examination irregularities such as bringing foreign materials into the examination hall and collusion.