Soldiers Donate To 'Dollar-A-Month For Ghana Fund'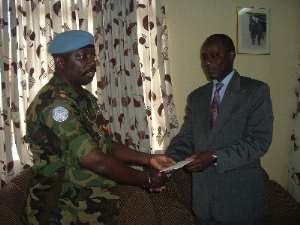 The last batch of Ghanaian peacekeepers, numbering 750, serving with the United Nations Mission in Sierra Leone(UNAMSIL) has donated an amount of $4500 to the DOLLAR A MONTH FOR GHANA FUND.
The Fund, which was established in February 2002, is an initiative of the Ghana High Commission in Freetown through which Ghanaians resident in Sierra Leone have in the last three years supported humanitarian and social causes in both Ghana and Sierra Leone.
The Commanding Officer of Ghanbatt 11, Lt. Colonel William Omane Agyekum who made the presentation on behalf of Ghanbatt 11, said that the soldiers by their contribution were associating themselves with the noble aims of the fund.
Ghana's High Commissioner to Sierra Leone, H.E. Kabral Blay-Amihere who received the amount on behalf of the Fund thanked the entire Ghanaian community in Sierra Leone and the various Ghanaian battalions which have served with UNAMSIL for their generous contribution to the DOLLAR A MONTH FOR GHANA FUND and the OPERATION SIX POINTS FUND for the Black Stars.
He paid special tribute to Major General Samuel Odotei, the Chief of Army Staff of the Ghana Armed Forces who was the Sector West Commander of UNAMSIL when the Fund was launched, for his endorsement and support.
The Fund was launched by Hon. Dr. Kwame Addo Kufuor, Minister of Defence who was then visiting the troops.
H.E. Blay-Amihere said the Fund, has since its establishment, supported educational and health institutions in Ghana and Sierra Leone.
The High Commissioner hinted that the Freetown Mission through the 'DOLLAR A MONTH FOR GHANA FUND' intends to build a classroom block in a deprived area in Ghana as a lasting monument to the patriotism of the Ghanaian Community in Sierra Leone.
Meanwhile Ghanbatt 11, which is the last Ghanaian battalion to serve with UNAMSIL, is making preparations to leave the shores of Sierra Leone for Ghana at the end of September.
A special ceremony to herald the end of the participation of Ghana in the restoration of peace in Sierra Leone since 1999 when Ghanaian troops first served with ECOMOG is scheduled for early September. Caption for photo- Lt. Colonel W. Omane Agyekum presents donation of Ghanaian troops to H.E. Kabral Blay-Amihere