J.H. Mensah On NPP's 2008 Candidate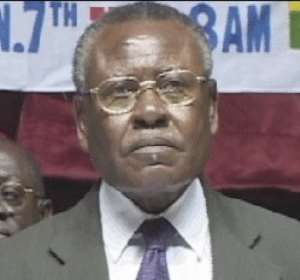 The Senior Minister and Leader of Government Economic Management Team, Mr J.H. Mensah, has reaffirmed that the ruling New Patriotic Party (NPP) has already put in place procedures and a perfect working machinery designed to carefully choose a charismatic and worthy flagbearer for the 2008 crucial Presidential and Parliamentary elections.
He said there is no basis by any person or group of persons to struggle for a successor for President Kufuor. He said according to the NPP constitution, there are laid down rules and a time table for doing these things and cautioned all party faithfuls and sympathizers to exercise maximum restraint by respecting the existing Constitutional framework of the NPP and to wait for the passage of time.
Mr Mensah was speaking in an interview with The Daily Dispatch at the International Conference in Accra. He was at the centre to chair a national forum on the theme: "Aquaculture as a Business venture." It was organized by the Ministry of Fisheries. Continuing, the Senior Minister said they are currently reorganizing the party; within the next three months, managers of the party at the grassroots would be elected.
Election of the party's managers will take place at the polling station level, the constituency and regional levels. He said after this process is completed, there will be party national conference. He pointed out that once they have had the annual conference, the officials and members of the party will now be getting ready to strategize as to the direction they want the party to go. They will end up producing a manifesto, a programme document for another four years.
The party executives and members can then select a candidate to lead the party. He said President Kufuor's recent caution to prospective NPP Presidential Aspirants to hold on and exercise greater political maturity would not undermine party unity; the President only reaffirmed the provisions of the party's Constitution. He stressed that President Kufuor was not "inventing new rules" for the party when he made those remarks, nor was he giving "a new directive or an executive order for the party."
Mr Mensah said "it will shock you to note that people in the party have not realized that there are already laid down procedures and other provisions within the NPP Constitution for the selection of a new flagbearer. So it was good for the President to remind them in order to call them to order" he said.