New company to list on Stock Exchange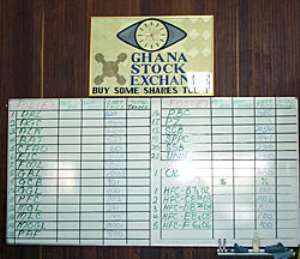 Accra, Aug. 23, GNA - Trading in the shares of Golden Web Limited (GWEB) will commence on the Ghana Stock Exchange (GSE) on August 29, according a statement from the bourse in Accra on Tuesday. A statement issued by the GSE said the public share offer of the company commenced on June 7 and was originally scheduled to end on July 8. However, it was extended to August 8.
The share offer consisted of the sale of 17 million ordinary shares of no par value. It said 15 million shares of the offer were new shares being issued by the company while two million were old shares being divested by the sole shareholder. There were 1,370 applicants who applied for 9.966 million shares.
The statement said the offer sought to raise a total of 9.35 billion cedis, but a total of 5.34 billion cedis was raised under the offer. The minimum aggregate subscription of five billion cedis was set as the threshold for a successful subscription. It said all subscribers had been allotted their shares in full.