April 10, 2018
|
Diaspora Diaspora (UK & Ireland)
Akuffo Addo sounded like a dictator - NPPUK EXECUTIVE MEMBER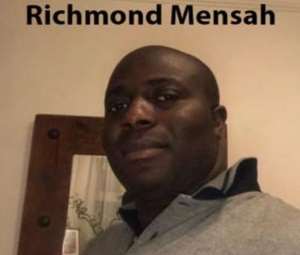 One may recall that an NPP member called Richmond Mensah who was accused of rigging 2014 NPP Chairmanship elections in Milton Keynes in favour of Chairman Ansah, the current UK NPP Chairman.
This Sheep in wolf skin is at it again. On Thursday 5th day of April 2018 after the President speech, Richmond Mensah and one Hans Boakye descended on him to extent of seeing him as a disgrace and remembered him of not in opposition but rather in power.
Richmond Mensah, who is the organiser and 1st Vice Chair hopeful in Milton Keynes made all these comments on WhatsApp group page called "FREEDOM OF SPEECH" and it may interest you to know that Chairman Ansah and some of the executive hopefuls are on the platform and yet they saw nothing wrong.
Being the Chairman's aid or darling boy, he tries to cover him in all his Evil deeds.
NPP Milton Keynes executives wrote a letter to the branch to Suspend him due to kind of messages he was sending to the late Kaba on his show "Ekosi Sen" and threatening of using his blood for Paul Afoko and Kwabena Agyapong when they were suspended.
Now that the UK executives are reluctant to bring this notorious Richmond Mensah to book,I entreat all NPP members to demonstrate against the NPPUK executives and charge them to crack the whip on Richmond Mensah.
Attached are the banters on his Freedom of speech platform and copy of his suspension letter for your perusal.