'Alarm Blow' Over ¢180 Billion Bribe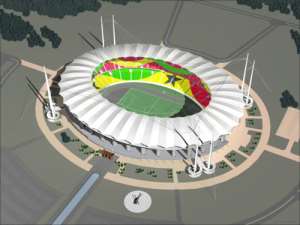 President John Agyekum Kufuor is reported to have taken a firm decision - that the rehabilitation of the country's sports stadia for the 2008 African Cup of Nations tournament should go to a Chinese construction company.
His decision, credible sources indicate, will save Ghana, at least US$100million (¢900billion) and in addition, get some newly-constructed stadia.
What the President's decision has done is to bring in its wake, a typical scenario of someone using counterfeit money to buy fake narcotic drugs. Who will complain and on what basis? How does one ask for refund of bribes?
The Dispatch had reported in its August 15, 2005 issue that US$20million (¢180billion) had allegedly been put aside by one company for 'thanking' senior officials if they get the contract. The problem now is that part of this huge sum of money had already been disbursed as 'knocking', how do you go and ask for a refund of these monies? One of the favoured bids had put only the rehabilitation of the five stadia at over $380million (¢3.4 trillion). The rehabilitation of the Ohene Djan Sports Stadium in Accra was estimated at $75million (¢675 billion).
The Chinese company is reported to have delivered bids that indicates that in addition to rehabilitating the five stadia, it will build five new 20,000 seater stadia at $20million (¢180billion) each. These brand new stadia include hostels for visiting teams to stay and Olympic Games standard tartan tracks. Their total package is less than $280million (2.52 trillion).
The Dispatch believes that all the facts about all the bids should be made known, officially. The team the President sent to China, headed by the Minister for Education and Sports, Mr. Yaw Osafo Maafo, has returned.
Mr. President, a savings of at least $100million (¢900billion) is no small change. Please continue to put your foot down because when the chips are down, any story of corruption would in future be recorded as having occurred during the administration of President Kufuor.