"No More Fear of Public Speaking", As Dzifa Mensah-Larkai Launches New Book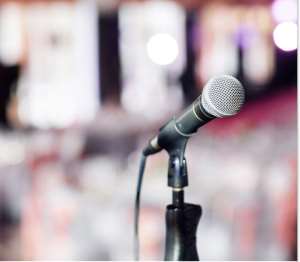 Following the fear and hesitation by many when call upon to make public pronouncements, Patricia Djefa Mensah-Larkai, a communications and leadership coach has put together a book titled "Untangling That Tongue – No More Fear of Public Speaking" to help readers overcome such fear.
The Book is focused on helping readers overcome their fear of public speaking, while learning techniques to boost their confidence in this area.
The book will be premiered (launched) on Saturday, 7th April, 208 at the Airport View Hote.
About The Book;
portion, (as seen on back cover) of book entitled: Untangling That Tongue – No More Fear of Public Speaking
Foreword by Over-To-You Joe Lartey
Are you required to speak publicly or to your executive team and employees, but always in fear?
Do you hesitate when requested to take the floor because the "Cat got your tongue"? Then worry no more!
This book is your practical guide and handy reference to delivering great speeches, impressive presentations and winning those sales pitches with confidence & creativity.
Read, Rehearse and Recall these tips and techniques always. It will develop the right character, charisma and composure required to inspire, inform, persuade or entertain your audience.
No more fear of public speaking, when you have this book! Go ahead and untangle that tongue!
Meanwhile, the author, Mrs. Mensah-Larkai will at the same event outdoor her second book titled "Fearless, Fabulous & Flamboyant" aimed to inspire and motivate readers to craft a unique personal vision in life.
It sets the stage for building the right mindset, if one desires to scale higher heights in all their endeavours for positive impact.
Both books will be outdoored at the official launch later today (Saturday).
About Author
Patricia Dzifa Mensah-Larkai is a communication & leadership coach, corporate trainer, public speaker and the 1st Female Distinguished Toastmaster, in Ghana.
She is the Founder and Lead Consultant, of Perissos Horizon – a Human Capital Development and Management Consultancy.
She is passionate about empowering and building the capacities of individuals and organisations; through practical knowledge-sharing and continuous skills improvement that enhances their competencies to scale higher heights.
She holds an Executive MBA in Entrepreneurial Management, from the University of Ghana Business School and a BA (Hons) Degree in Administration and Sociology, from the University of Ghana, Legon.