Pastor in court for giving false alarm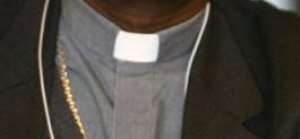 Accra Aug.22, GNA - A 36-year old Pastor accused for falsely reporting his brother for dealing in arms in an anonymous letter to the President appeared before the Greater Accra Regional Tribunal on Monday.
He is charged of creating false alarm to security personnel on the activities of some individuals to the State.
William Kwaku Quarshie, who claimed to be a Pastor of Word Miracle Church International, was charged with deceit of public officer and spreading false news with intent to cause fear and alarm to the public. He pleaded not guilty and the Court admitted him to a 50 million cedis bail to reappear on August 26.
Assistant Superintendent of Police (ASP) George Abavelim said the complainants were all public officers serving in various capacities in the Ghana Armed Forces, Accra Brewery Limited and Bureau of National Investigation (BNI).
Mr Abavelin said between the month of March and July this year, Quarshie wrote anonymous letters and addressed them to the President of the Republic of Ghana and copied same to the National Security Co-ordinator and other security agencies alleging that Mr Charles Nyaho Quarshie, his brother, who was working with the Ghana Armed Forces was supplying arms to the youth in the Northern Region.
During the same period, two letters received from him also alleged that Mr Kwamena Odame Lartson of Accra Brewery Limited was involved in the sale and supply of arms to the youth in Accra, who in turn engaged in armed robbery.
Prosecution said the letters were referred to two personal of the BNI namely Ms Joycelyn Acquaye and Mr Lord Nyartwi to investigate. Their investigations could not establish any truth in those allegations.
The Police said Quarshie further wrote two separate anonymous letters, addressed them to the President, and copied them to the National Security Co-ordinator and other security agencies that the two BNI personnel had extorted three million dollars and 50 million cedis from Mr Lartosn and another.
Prosecution said in depth investigations by the BNI indicated that Quarshie wrote all the letters.
He admitted being the author of the letters during interrogation.