Rawlings calls for unity of the nation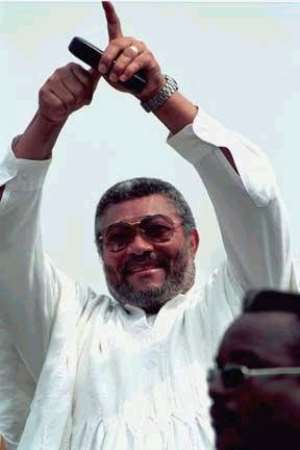 Accra, Aug. 20, GNA - Former President Jerry John Rawlings on Saturday told an enthusiastic National Democratic Congress (NDC) rally in Accra that the unity of the nation was paramount and partisan activities should not transcend into tribalism and religious discrimination.
He said anyone who would engage in such activities would be sacrificing the truth to divide the nation instead of uniting it. Former President Rawlings, who is also the founder of the NDC was addressing a rally the party held in the Odododiodioo constituency where a parliamentary by-election is to be held on August 30 this year. Arriving to a thunderous welcome from the enthusiastic supporters that parked the Opera Square with his wife Nana Konadu Agyeman - Former President Rawlings said the bye-election was not a issue of this or that tribe against the other but it was an issue as to whether they have faith in the party.
He said the people should demonstrate that faith by voting massively for the NDC Parliamentary candidate, Mr Nii Tackie Kommey. Former President Rawlings said the year 2008 was not far away and that winning the by-election would send signals to their opponents that the NDC would come to power in 2008.
Urged on by the supporters to speak the more Former President Rawlings said: "it is not too much of talk that would do the trick what was necessary was the people's vote for the NDC," since they were aware of NPP's record.
Mr. Haruna Iddrisu NDC National Youth Organiser and MP for Tamale South called on the government to facilitate the coming of Madam Gizelle Yadzi into the country to enable the people to establish the truth about the Hotel Kufuor Saga.
Mr E.T Mensah, MP for Ningo-Prampram gave a catalogue of numerous achievements of the NDC and said it was not true that NDC did nothing for the development of the country when it was in power He challenged the ruling New Patriotic Party government to be mindful of the promises they made to the people and that they were waiting for fulfilment of the promises.
Nii Tackie Kommey, who was introduced by Nii Okaidja Adamafio former Minister of the Interior, said he would use his experiences as an assemblyman and being the son of the former Ga Mantse, Nii Tackie Otoo III he would lead the people for development when he is elected an MP for the area.
Nii Lante Vanderpuje, a leading member of the party said the ruling government was insulting the intelligence of the people that had it not been for the by-election the street lights being provided in the area now would not have been done and that the open selling of maize to the people by NPP activists at 160,000 cedis per bag instead of 350,000 would not have taken place.
He said some people were being given free mattresses and other materials and urged the people to collect them but they should know where their votes would go. 20 Aug, 05