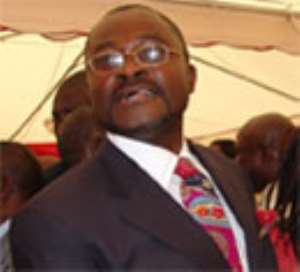 The Member of Parliament for Assin North, Hon. Kennedy Adjapong, yesterday lashed out at Mr John Addo Kufuor alias Chief Kufuor, the 41 year old 'professional accountant' son of the Head of State Mr John Agyekum Kufuor, for exercising very bad judgement in his decision to acquire the famous edifice at Airport Residential Area known as 'Hotel Kufuor'.
The hard-charging MP also scored a personal first when he exposed the Government Spokesman, Kwabena Adjapong and the Minister of Information, Mr Dan Botwe, who have been shouting at the rooftops to all who would listen that the Head of State, Mr Kufuor was totally unaffected by the media feeding frenzy occasioned by Gizelle Yajzi. According to Kennedy Adjapong, Mr John Agyekum Kufuor was suffering brutally from the ministrations of Ms. Gizelle Yajzi, the lady who has accused Mr Kufuor of using his son as a front to acquire the Hotel Kufuor.
By his admission, the New Patriotic Party Member of Parliament exposed the brave fron so far peddled by Kwabena Adjapong and Dan Botwe as little more than mere bravado. Gizelle Yajzi has been drawing blood, according to Kennedy Adjapong. "This woman has done a lot of damage," Mr Kennedy Adjapong admitted. "Kufuor has been very affected, he has a lot of courage, and the NPP has to admit it."
Wondering why the woman was so bitter, Kennedy Adjapong, who was speaking on Hello FM in Kumasi yesterday, also used the occasion to attack the credibility of Ms Yajzi, describing her as inconsistent. Having blown his own party's propaganda wide open, Hon. Kennedy Adjapong turned his attention on the Friends of the Truth, wondering where they were when former President Rawlings was in power.
Lumping the members of the FOT and Mr Victor Smith, the Special Assistant to the former President Rawlings, he described them as diabolic. Intent on discussing anything but the issues at stake, Mr Adjapong alleged that former President Rawlings kept a Japanese lover and a former Ms Ghana who he at one time bought an air-ticket valued at 10,000 pounds sterling for.
Hon. Kennedy Adjapong alleged that some people are paying money to bring the Head of State Kufuor down. "Any enemy who tries to bring Kufuor down would fail," Adjapong said, adding that he would personally defy any order from anyone or from anybody to allow Gizelle Yajzi into Ghana. "We won't stay here for people to destroy Ghana. We are going to check their tax!" Adjapong threatened, referring to Radio Gold and alleging that radio station owed billions of cedis in taxes.
"As for Radio Gold... they should make sure that they have paid their tax. They have dared to use that medium to discredit Kufuor," Adjapong threatened. Turning to Prof. John Evans Atta Mills, the Member of Parliament who was railing all over the area in a valiant effort not to discuss the facts, described Prof. Atta Mills as a good man who had been deceived into stating a position on the Hotel Kufuor saga.