Foreign Truck Drivers On Sexual Rampage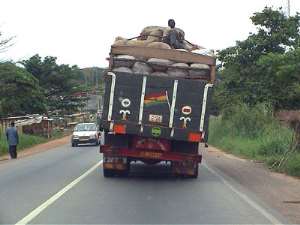 The environs of the Meridian Hotel, on the Tema Main Harbour road, are fast becoming the breeding ground for Drivers from Burkina Faso and Mali who use the place as brothels sleeping in the open with young girls who are believed to be hawkers and potters popularly known as 'kayayee'.
Investigations revealed that these drivers who park at the Engen Filling station on transit from Burkina Faso and Mali engage these 'poor ladies' in practicing prostitution.
Interviewing some of the people who live around the place after a period of observation by this reporter, it came to light that these drivers most of whom hardly take their bath, sleep with these ladies in the gutters and under their long vehicles.
This situation according to eye witnesses has come about because most of these girls are iced water sellers and the less privileged in society who come from broken homes and have no places to sleep. It was further revealed that some of these girls get pregnant, and never see the drivers responsible while others get infected with diseases and sickness and some taken away by these drivers to engage in child slavery to these African countries.
When contacted on the activities of these drivers and the potters, the Public Regions Officer at the Tema Regional Police, Chief Inspector Yaw Nketia-Yeboah said the issue came up but it was some time last year and that he was not aware that it was still happening, promising that if it was still going on he was going to alert his patrol team to go to the spot and arrest those involved.