Ghana strongly favours GM Crops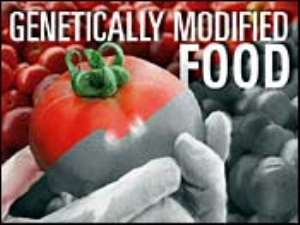 Accra, Aug. 18, GNA - Mr Ernest Debrah, Minister of Food and Agriculture, on Thursday said Ghana had not taken any strong stand against the importation and cultivation of Genetically Modified Crops, but was rather strongly in favour of it. He said with he National Bio-Safety Framework and its other nine accompanying instruments, which had just been launched, "we have now met the accessions of the Cartagena Protocol, which was signed in May 2003 affirming our position for the safe use, handling and transportation of Genetically Modified Organisms (GMOs) that might find their way to Ghana." Speaking to the Ghana News Agency in Accra on the nation's position on Genetically Modified Crops, the Minister said the Ministry was working vigorously on the passage of the bio-safety bill to show the country's preparedness and commitment to ensure the safe use, handling and transfer of GMOs in Ghana. He stressed that Ghana's position on the issue of GMOs was strictly based on the precautionary principle and that every effort would be made to ensure the safety in the use of GMOs. The Categena Protocol states: "Parties shall ensure that the development, handling, transport, use, transfer and release of any living modified organisms are undertaken in a manner that prevents or reduces the risks to biological diversity, taking also into account risks to human health." Mr Debrah said all Genetically Modified Crops imported or cultivated locally would pass through vigorous inspections to conform to the country's regulations and standards to ensure their safety for both living organisms and the environment.
He said Ghana and its neighbours continued to exchange planting materials and it was, therefore, prudent for the country to put in place all the necessary precautions and mechanisms to formally standardise the usage of GMOs, hence, the framework and the pending bill.
Ghana, the first in Africa and the 10th in the world to accomplish the task of developing a National Bio-safety Framework under the United Nations Environment Programme and the Global Environment Facility (GEF) had proved its ability to ensure sustained use of modern biotechnology products and processes, the Agriculture Minister said. 18 Aug. 05