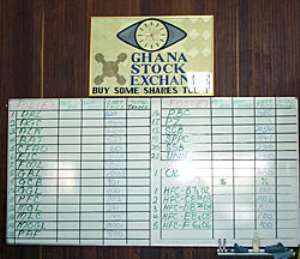 Financial experts in the country have denied any looming crash of the Ghana Stock Exchange, following the recent downward trend of its All Share Index as is being speculated.
Speaking to the Executive Director of the Strategic African Securities, Ms Abena Amoah, she said although the market had been performing badly, it was not going to crash because trading activities were still active.
She said crashing of a stock market was when all stock prices fell drastically over a very short time and that the GSE had not come to that.
Monday's trading session was quite active despite the low volume traded. Twelve (12) equities traded, compared with a daily average of seven (7) equities during the past week. A total of 56,000 shares valued at ¢345 million exchanged hands.
The Ghanaian bourse has had one of the worst half yearly performances in recent years.
GSE market statistics covering the market's activities the first half year of 2005 saw the All Share Index dropped by 13.77% to close the half year at 5,862.7 points from 6,889.44 in January.
Total market capitalization was ¢94,543.54 billion, representing a drop of 3% of the January figure of ¢97,862.81 billion.
The statistics revealed also that the turnover volume for equities was 24.53 million shares, valued at ¢125.11 billion for the first half year of this year.
During the period under review, January recorded 5.98 million shares, February had 2.71 million, 5.66 million for March and 5.28 million for April as well as 1.22 million for May. June had 3.67 million shares traded.