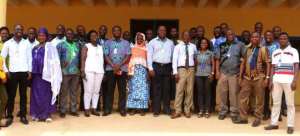 Stakeholders have met to review activities of the Tropical Legumes III Project and finalise the country work plan and seed road map for this year, in resonance to the country's legumes strategies.
The Council for Scientific and Industrial Research - Savanna Agricultural Research Institute (CSIR - SARI) is collaborating with the International Crop Research Institute for the Semi-Arid Tropics among other stakeholders to implement the project, with funding from the Bill and Melinda Gates Foundation.
The Tropical Legumes III Project aims at developing sustainable legume seed systems leading to increase in groundnut and cowpea production by smallholder farmers.
It has been implemented in selected communities in the Northern, Upper East and Upper West regions since 2015 and would end in 2018.
Mr Haruna Mohammed, a Research Scientist at CSIR-SARI, said the Project had enhanced the production of cowpea in drought-prone areas of sub-Saharan Africa in four countries; Ghana, Mail, Burkina Faso and Nigeria.
The Project, he said, had reduced poverty as well as improved food security among smallholder farmers, especially on cowpea and groundnut.
Dr Julius Yirzagla, an Agronomist at CSIR-SARI, assured the farmers that there would be abundant groundnut and cowpea seeds during the crop season this year, and urged them to use the seeds to increase their yield.
Dr Roger Kanton, the Deputy Director of CSIR-SARI, in an interview with the Ghana News Agency, said cowpea and groundnut production had improved within the past few years as a result of the project.
He urged the Government and stakeholders to promote cowpea and groundnut production in the country.
GNA
By Comfort Sena Fetrie, GNA